CNN Anchor Asks Bill Nye If Global Warming Had Anything To Do With A Near-Earth Asteroid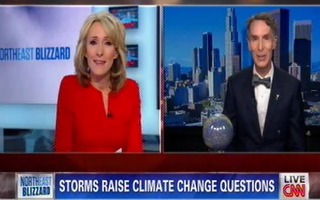 Those who believe that global warming is dire, warn that this phenomenon represents a major threat to life on earth but is global warming also a threat beyond our planet? On the face of it, the "global" aspect of global warming would lead one to believe that the threat of climate change is somewhat localized. For one CNN anchor, however, the challenges posed by global warming extend out into the solar system where they somehow created the circumstances that led to a near-earth asteroid just missing the planet.

RELATED: Andrea Mitchell Asks Al Gore How A Global Warming 'Prophet' Could Sell His Network To Oil Producing Nation
After wrapping up a Saturday afternoon segment on the impact climate change may have had on the extreme winter weather that hit the Northeast this weekend, CNN anchor Deb Feyerick turned to a feature on a large asteroid that will just miss earth as it passes by.
"We want to bring in our science guy, Bill Nye, and talk about something else that's falling from the sky, and that is an asteroid," said Feyerick. "What's coming our way? Is this the effect of, perhaps, global warming? Or is this just some meteoric occasion?"
"Except it's all science," Nye said rescuing Feyerick. "The word meteorology and the word meteor come from the same root, so…"
Nye went on to discuss the asteroid which has missed impacting earth by 15 minutes. He says if this body were to impact over a populated area like New York City, that municipality would be completely leveled.
Watch the clip below via CNN:
h/t Newsbusters
> >Follow Noah Rothman (@NoahCRothman) on Twitter
Have a tip we should know? [email protected]