CNN Anchor Asks Surrogate: 'You Telling Me We Should Just Stop Believing What Donald Trump Says?'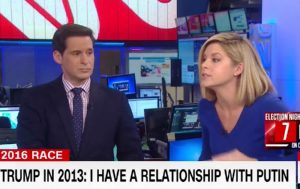 While hosting a panel on At This Hour with Berman and Bolduan, CNN host Kate Bolduan got into a pretty intense back-and-forth with Trump surrogate John Jay LaValle over previous statements Donald Trump has made over his relationship with Russian President Vladimir Putin.
As LaValle and other panelists debated Trump's ties with Russia, with former campaign manager Paul Manafort being brought into the mix, co-host John Berman noted that Trump is friends with Russia, highlighting a 2013 comment Trump made saying he knew and had a relationship with Putin.
After playing the clip of Trump, LaValle said it was imperative that a president forms alliances with countries like Russia to fight ISIS. Bolduan interrupted, telling the surrogate that the remarks came from 2013. When LaValle attempted to respond back, Bolduan stopped him, saying that this gets to what Trump is saying at his rallies and the last debate where he has claimed he has no relationship with Putin, just that Putin has said nice things about him.
When LaValle noted that isn't "establishing a formal relationship with Russia," Bolduan challenged him again, bringing up the 2013 comments in which he answered yes to the question of having a relationship with Putin.
"He's an international businessman," LaValle exclaimed. A clearly frustrated Bolduan, detailing the differences in what Trump is saying now and what he said three years ago, asked the pertinent question, "Are you telling me we should just stop believing what Donald Trump says?"
"What he says, you can believe," the Trump supporter replied. "Which is which," Bolduan wanted to know.
The panel once again turned into a cacophony and Bolduan jumped in, ending the segment by deadpanning "that was fun — let's do that again."
Watch the clip above, via CNN.
[image via screengrab]
–
Follow Justin Baragona on Twitter: @justinbaragona
Have a tip we should know? tips@mediaite.com