CNN Anchor Battles Anti-Gay Activist, Kicks Him Off After He Trashes 'Toxic' Homosexuality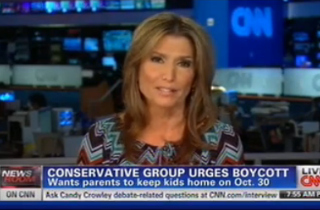 CNN host Carol Costello could only stand so much anti-gay rhetoric this morning. After allowing American Family Association spokesman Bryan Fischer to claim that Adolf Hitler's Nazi Stormtroopers were largely comprised of gay men and that there are documented health risks to homosexuality, Costello threw the outspoken anti-gay advocate off her program, ending the interview abruptly.
For the first half of the discussion, Fischer criticized the Southern Poverty Law Center's new "Mix It Up at Lunch Day" initiative that seeks to promote tolerance in school lunchrooms and reduce bullying. Naturally, the AFA is protesting the initative, claiming that it seeks to force students "to accept homosexuality as a normal, healthy alternative to heterosexuality."
He went on to call the program deceptively "toxic" to the "moral health" of students, much like "poisoned Halloween candy" injected with cyanide. "The label looks fine, it looks innocuous, but once you internalize it you realize how toxic it is."
After some back and forth over whether his views constitute "hate speech," Costello read aloud a passage from a previous radio interview Fischer had conducted, in which he said:
"Hitler recruited homosexuals around him to make up his Stormtroopers. They were his enforcers. He discovered he could not get straight soldiers to carry out his orders but homosexual soldiers had no limit to the savagery and brutality Hitler sent them after."
"That spells agenda to me," remarked Costello, adding that by most people's standards this would constitute "hate speech."
Fischer encouraged Costello to read a particular German history book that supposedly corroborates his claims, but Costello dismissed him, adding that "I think most historians would take issue with that."
The anti-gay activist then attempted to call the Southern Poverty Law Center the real "bullying group," claiming that "they're the ones that want to silence any view that would criticize the normalization of homosexual behavior."
But as soon as Fischer began to spout off supposed health risks to homosexuality, Costello abruptly cut him off and ended the interview.
"That's just not true," she said. "I'm going to end this interview now, sir, because that's not true."
She signed off: "Thanks for sharing your views, I guess?"
Watch below, via CNN:
[h/t RWW]
— —
>> Follow Andrew Kirell (@AndrewKirell) on Twitter
Have a tip we should know? tips@mediaite.com