CNN Anchor Corners GOP Rep: Trying to Defund Obamacare Doesn't 'Engender Trust'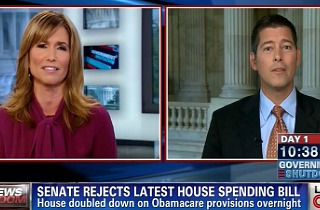 Rep. Sean Duffy (R-WI) appeared on CNN on Tuesday where he engaged in a tense exchange with anchor Carol Costello over the government shutdown and how it might be resolved. Costello argued with Duffy over how a shutdown came about and whether it cannot be resolved soon because the GOP lost the trust of Congressional Democrats by attempting to defund the Affordable Care Act via a continuing resolution on the budget.

"The president saw big business with the lobbyists and big money coming to Capitol Hill, he gave them a one-year delay in Obamacare," Duffy began. "All we're saying is give that same delay to individuals. Treat my middle class families the same as you're treating big businesses."
Costello asked if those signing up today for health care insurance exchanges would end if the GOP is ultimately successful. Duffy insisted that they would not.
"We've come off our defund. We've come off our complete delay," Duffy insisted. "All we asked for is that individuals don't be required to sign up for Obamacare just like big businesses…"
"Even thought that was upheld by the U.S. Supreme Court," Costello interjected.
"Wasn't that a compromise?" she said of the president's decision in July to delay the ACA mandate for businesses.
"No, he did that unilaterally," Duffy replied.
"But you agree with it, right," Costello pressed.
Duffy said he did not and insisted that individuals and families should have the same exemptions that businesses have. He added that members of the president's administration "don't want to be in Obamacare" because they are taking advantage of a special subsidy for members of Congress and the White House and their staffs.
Costello pressed Duffy on whether the GOP would scuttle aspects of the ACA like a ban on excluding people with preexisting conditions from being covered. Duffy said that they would not and that this was one aspect of the ACA that was "really good."
"This is what's confusing people, Congressman," Costello interrupted. "Why are we having this big argument? Why is the government shut down?"
"When you start with a bill, that includes defunding Obamacare outright, right, I mean, that doesn't exactly engender trust with the other side, does it?" Costello asked.
Watch the clip below via CNN:
[Photo via screen grab ]
— —
> >Follow Noah Rothman (@NoahCRothman) on Twitter
Have a tip we should know? tips@mediaite.com