CNN Anchor Criticizes Almighty For Allowing CT Massacre: 'Why Did God Do It?'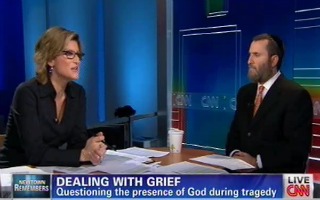 Less than one week after the horrific slaughtering of 26 teachers and children in an elementary school in Connecticut by a lone madman, and with action yet to be taken to ensure that this kind of atrocity never happens again, CNN has turned to questioning God's role in allowing this attack to occur. One CNN anchor interviewed a theologian about his views on why the almighty is deserving of criticism for allowing those murders to occur.

CNN anchor Ashleigh Banfield sat down on Wednesday with Rabbi Shmuley Boteach to discuss the instinct among some to blame the lack of reverence for God in American schools for the attack on Friday.
She strongly criticized Bryan Fischer, director of issues analysis for the American Family Association, who recently asked "where was God" in this tragedy. His answer was that "we've kicked God out of out of the public school system,' and God said in turn, "I am not going to go where I'm not wanted. I am a gentleman."
"God is a gentleman and, thus, will not save 20 children until we invite him back into the public school system," Banfield asked. "How can people get away with this kind of thing?"
"Because we allow them to," Boteach replied. "This is not a religious man." He went on to detail why, in his opinion, Americans are "the most religious country in the Western world."
"Then why did God do it," Banfield asked in exasperation. "If we're supposed to challenge God, why did he do it?"
"We don't want an explanation," Boteach replied. "We want it not to happen. We don't want God as comforter, we want him as protector."
Watch the clip below via CNN:
> >Follow Noah Rothman (@Noah_C_Rothman) on Twitter
Have a tip we should know? tips@mediaite.com