GOP Rep. Refuses to Tell CNN Anchor Which Obamacare Privacy Questions 'Specifically' Concern Her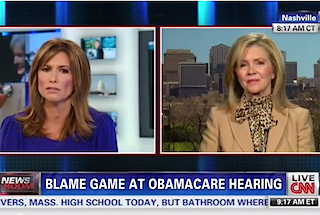 The issue of privacy has emerged as one of the Republican Party's many concerns when it comes to the Affordable Care Act over the last several weeks. And during congressional hearings yesterday, Rep. Marsha Blackburn (R-TN) suggested that the required questions on HealthCare.gov actually violate the Health Insurance Portability and Accountability Act of 1996 or HIPAA. This morning on CNN, Carol Costello asked her to name a specific question that concerns her.
"CNN has looked into the medical privacy question and found the website does not violate HIPAA," Costello began. "In fact, the only health related question is 'do you smoke?' So what specifically were you referring to on the website that violates, that could possibly violate HIPAA?"
"We are concerned about privacy overall," Blackburn answered. "Data security privacy and of course applying and complying with the HIPAA laws, and–"
"But what question specifically asks that would concern you about HIPAA," Costello interrupted. "What medical question does it ask?"
From there, the two women had an almost comical back and forth, with the CNN anchor asking for specifics and Blackburn answering with generalities. Costello used the word "specifically" at least a dozen times and at no point got a specific example from Blackburn.
After about six minutes, Costello essentially gave up, saying, "I understand, again, the only health-related question this website asks is 'do you smoke?' but I hear what you're saying."
"I think there are other issues that are there, there are other questions that are there," Blackburn said, again without giving specifics.
"Not health-related," Costello said, smiling, as she said goodbye to her guest.
Watch video below, via CNN:
[h/t ThinkProgress]
[photo via screengrab]
— —
>> Follow Matt Wilstein (@TheMattWilstein) on Twitter
Have a tip we should know? tips@mediaite.com