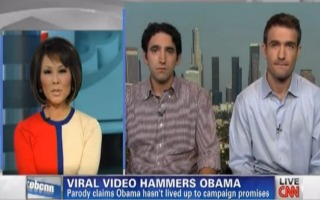 The creators of one a parody of Gotye's hit single "Somebody That I Used To Know," which was slightly critical of the expectations Barack Obama set when he ran in 2008 but failed to meet as president, appeared on CNN for what they surely thought was going to be a pleasant moment in the spotlight. But after they were interrogated about how they would have governed differently from the President, why they didn't vote in 2008, whether their mild criticisms were even appropriate and who they planned to vote for in this cycle, the video's creators knew just how wrong they were.

CNN anchor Alina Cho introduced the creators of the parody video, "The Obama That I Used To Know," and played a clip from that video:
The parody is clearly a mild critique of the President and focuses on the well-worn theme that Obama's supporters, once buoyed by the '08 campaign's slogans of hope and change, are now somewhat deflated after four years of governance.
Instead of doing a fluff interview with the comedic video's creators, Cho became possessed by the spirit of Edward R. Murrow and opted to perform some hard-hitting journalism.
"Alright, it gets a laugh, but in all seriousness can you even articulate what you two would have done with Guantanamo," Cho asked the recent college graduates. "What would you have done?"
"That's a tricky issue," replied NewJust Productions co-founder and video star Justin Monticello. "Our general sense with this was that when he won there was going to be this, kind of, a watershed moment. And that he was promising to return us to, you know, the American values without having to sacrifice theme for security."
"We had so much hope for what he could do for America and the world, and maybe those were unrealistic expectations." Said production company co-founder Ryan Newbrough.
Beginning to sense that his audience's hostility, Newbrough added that his amusing parody video "might not be a fair critique."
"I understand that both of you supported Obama in 2008, and yet neither of you voted in that election," Cho inquired. "Some people might say the better way to let your voice be heard, with all due respect, is to cast your ballot."
…Silence. The pair sat dumbfounded. Their stunned faces broadcast the response they certainly wished they could deliver: 'did you not get the point of this video? It's a satire. A light hearted romp through the meadows of comedy. Are you seriously attempting to divine our political values here? Are you trying to shame us on live television in order to discredit a parody?'
But, sadly, the pair did not offer an incensed response to Cho's inquisition. Perhaps shocked or perhaps just extremely polite, they offered a serious answer to Cho's not very serious line of questioning. They said both were living out of state and they were college students in 2008 who, like most college students, are not especially reliable voters. They explained, however, that they were enthusiastic supporters of Obama and what he represented in 2008.
"So, are you planning to vote this time and are you going to support Mitt Romney," Cho harangued.
"We'll definitely vote this time," replied Newbrough. "I think both of us are undecided."
Maybe after this escapade, they're slightly less "undecided" today.
Rarely do you see such an enthusiastic evaluation of a light-hearted attempt at comedy. But this is an election year and everything that can be interpreted as a canary in the coal mine of political opinion is thoroughly examined and, if threatening, aggressively attacked. Apparently, there is no room for mockery when the stakes are this high, even in YouTube sendup videos.
Watch the interrogation below via CNN:
> >Follow Noah Rothman (@Noah_C_Rothman) on Twitter
Have a tip we should know? tips@mediaite.com