CNN Anchor Presses DNC Chair: Why Restore Sanders Campaign Access During Active Investigation?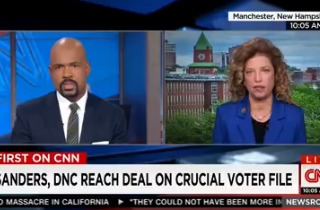 Victor Blackwell interviewed Debbie Wasserman Schultz today, where he asked her about why the head of the Democratic National Committee was willing to make such an early deal with Bernie Sanders' campaign to remove their sanctions for improperly accessing voter data.
The Sanders campaign fended off controversy yesterday, which resulted in the firing of one of its staffers after breaching proprietary voter data pertaining to Hillary Clinton. Wasserman Schultz also appeared on CNN yesterday to defend their penalization of the campaign, and on Saturday was asked by Blackwell to explain the arrangement between the campaign and the DNC to restore file access.
"What we were asking for, that they had been refusing to provide us with, is who on the Sanders campaign accessed the information, what information they accessed, and that they weren't able to get access to it and manipulate that," Wasserman Schultz said. "They were refusing to give us that information."
Wasserman Schultz continued to say that the Sanders campaign has agreed to an independent audit and further examination, but Blackwell asked her to respond to the campaign's "overreaction" by previously threatening to take the DNC to court.
"Our job is to level the playing field. The only remedy we have is to cut off their access to be able to use that information," Wasserman Schultz said. "They admitted they cut off another campaign's proprietary information. It is a voter feel that is managed by the DNC. They have an agreement with us in which they agree not to utilize or view another campaign's proprietary information."
[Image via screengrab]
— —
>> Follow Ken Meyer (@KenMeyer91) on Twitter
Have a tip we should know? tips@mediaite.com