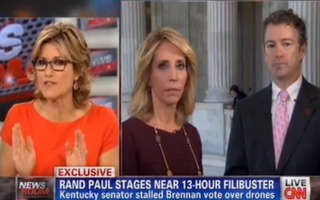 The morning after Sen. Rand Paul's (R-KY) nearly 13-hour filibuster, he appeared on CNN to elaborate on his request for more information from the White House and the Department of Justice regarding their belief that domestic drone strikes on American citizens could be legally justified. CNN anchor Ashleigh Banfield cornered Paul with what she thought was his hypocrisy on drone strikes by citing a the 2010 "Times Square bomber" as an individual who she thought both Paul and the administration would agree deserved to be targeted by a drone. Paul did not give Banfield the response she was probably looking for.

RELATED: Judge Napolitano Applauds Rand Paul's Filibuster, Slams Obama: 'Brave New World Is Not Too Far Off'
"It sounds like the senator and [U.S. Attorney General] Eric Holder are on the same page about the café scenario," Banfield began. "The Times Square bomber who, but for a bad trigger device, could have blown up Times Square. If there were a drone hovering there, would that be an imminent threat that the senator would agree we could use lethal force on that American citizen?"
"Anybody bringing a weapon to a place, assembling a weapon, using a weapon," Paul replied. He went on, however, to illustrate how drone strikes carried out overseas would not be acceptable in the United States. "Here, you would be accused of a crime and we would determine whether you're guilty or not," Paul said.
Paul said that the White House and Obama administration officials "need to be explicit" about the standard they would use to justify a strike on an American citizen in the United States without due process. When asked by CNN reporter Dana Bash if he really believed the Obama administration would approve of the bombing of a caravan of suspected terrorists as they do overseas, Paul replied that he did not. "And that's why they should say they won't," he added.
Banfield did not appear satisfied with Paul's answer. "I want someone to give me a real good definition for imminent, and I hope the parties will agree on what that definition's going to be, because it seems like the senator agreed with Eric Holder in the circumstance of the Times Square bomber," Banfield concluded.
Watch the clip below via CNN:
> >Follow Noah Rothman (@NoahCRothman) on Twitter
Have a tip we should know? tips@mediaite.com