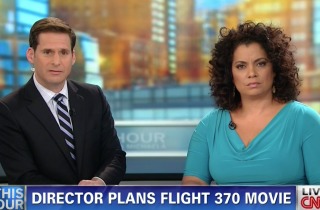 For months following the March 8 disappearance of a Malaysian passenger airliner, CNN dedicated near wall-to-wall coverage to speculation surrounding what happened to that plane. In coverage ranging from the deployment of toy planes to speculation about black holes swallowing the Boeing 777, CNN spent two full months mentioning the plane an average of 10 times per hour.
The network earned a ratings boost for its non-stop coverage, but they also received criticism from media-watchers for missing plane coverage that ceased to be about news and became more about sensationalism.
On Tuesday, however, the cable news network risked sparking a new round of criticism of their plane coverage. CNN invited the maker of a trailer for a planned film about the missing plane to appear on the network on Tuesday where he was scolded by two anchors for sensationalizing the story and possibly offending the families of those who lost loved ones.
"Obviously, the flight 370 story is a tragedy and it's a tragedy that's by no means resolved," CNN anchor John Berman asked filmmaker Rupesh Paul. "The families of the people on board that flight still have no sense of what happened to that plane. Have you considered at all what this film — how it might affect them?"
Paul replied that he was taking the film, which has not yet been made, as seriously as the subject matter warrants.
"Why not wait then?" CNN anchor Michaela Pereira asked. "If you don't have the intention to hurt somebody, you don't think that the timing or the emotions of the families are still very raw, they have no closure — they don't know what happened to their loved ones — why not just wait?"
RELATED: CNN Mentions Malaysia Airlines Flight 370 Once Every 6 Minutes
After expressing indignation over the film's subject matter, and the lack of concern for the families of the passengers of MH370, Berman did ask how the movie ends and what happens to the plane.
Paul replied that he could not spoil the end of the as-yet-unmade film.
Watch the clip below, via CNN:
[Image via screengrab]
— —
>> Follow Noah Rothman (@NoahCRothman) on Twitter
Have a tip we should know? tips@mediaite.com