CNN and MSNBC Air Huge, Scary Graphics For Dow Crash…But Nothing For Dow Soar
The stock market has suffered a turbulent week, dropping 362 points on Tuesday and around 660 points so far today, with analysts blaming the dips on investors anticipating a rise in interest rates due to the strength of the economy.
That's right. Sometimes when the economy is on the rise, the stock market actually suffers because borrowing money becomes more expensive.
The economy is a multi-faceted beast with nuance to spare, but that nuance is rarely expressed in cable news graphics. CNN spent most of Friday blaring an ominous red graphic across the bottom of its screen, suggesting economic doom and gloom, as anchors from Brianna Keilar to Jake Tapper covered today's Dow plunge, long before it reached 660, with CNN's reporting beginning earlier in the day when the fall was in the 300 range.
"We're keeping our eye right now on a triple digit drop in the stock market, despite what was a strong jobs report out this morning," Keilar said, as that terrifying red graphic dwarfed her entirely.
"We're also following the Dow having its worst day under the Trump presidency," Tapper later reported.
So, yeah, the obvious question here is, did CNN show a booming, green graphic when the Dow repeatedly broke records in January, hitting 25,000 and then 26,000?
According to our research, no. While it must be noted that CNN did cover both of those milestones — with John King noting on January 16 that "the Dow cracked 26,000" and Christine Romans stating that it was "pretty remarkable" that "we keep hitting" these "milestones" — the fixed graphic touting the stock market success was no where to be found.
In other words, certain CNN anchors have offered praise in their coverage of the economy under Trump. Their graphics department, on the other hand, remains highly skeptical.
Not only could we not find anything resembling a "Dow soars" graphic, but the network's chyrons have a well-documented history consistently trolling the president.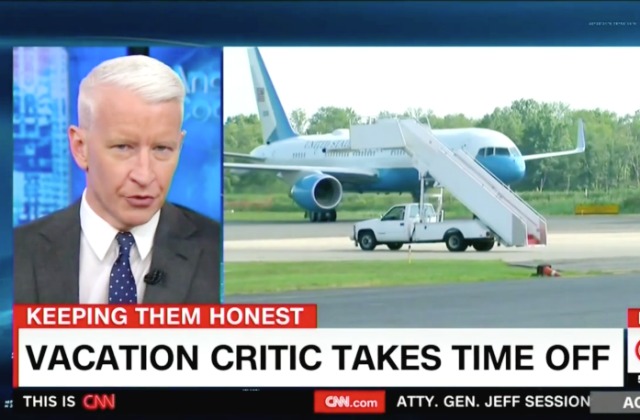 CNN's fact-checking chyrons have even grown to be two lines in length under the Trump White House.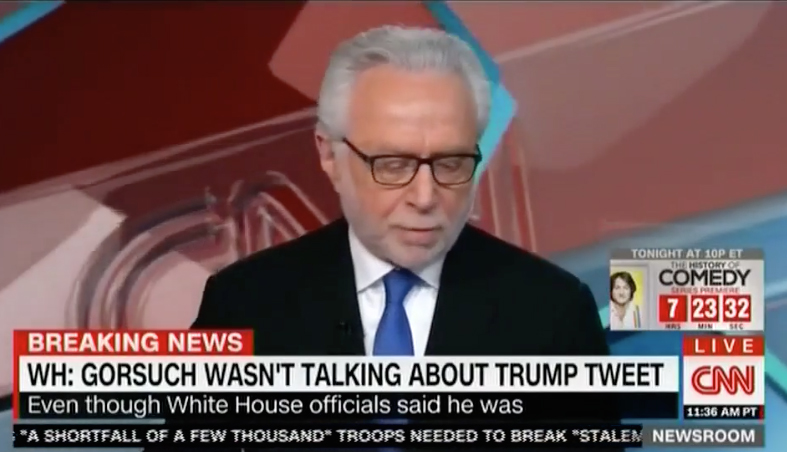 Can a news organization strive to have no editorial bias — but posses a visual bias? A picture, so it is said, is worth 1,000 words.
For context, let's look at how MSNBC is doing. Did they show any apocalyptic red graphics today, warning viewers of dire economic doom? The network isn't usually big on graphics but, lo and behold, they went for it this morning, displaying the doomiest fullscreen graphic during Velshi and Ruhle.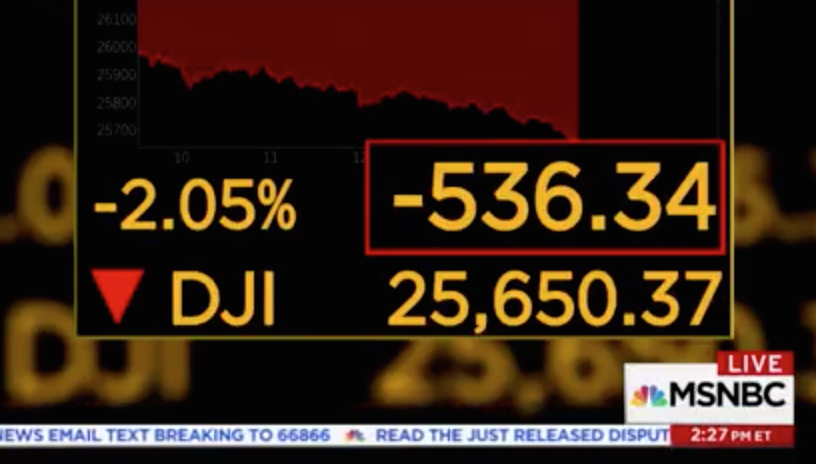 And like CNN, MSNBC has also had an ominous, red and black graphic blaring "DOW PLUNGES" running along the bottom of the screen for much of the day.
Finally, there's Fox News. We all know they diligently cover the positive elements of Trump's economy, but what about dips? Did they air a scary graphic today?
They did, with Shepard Smith noting that the Dow was "having its worst day since 2016."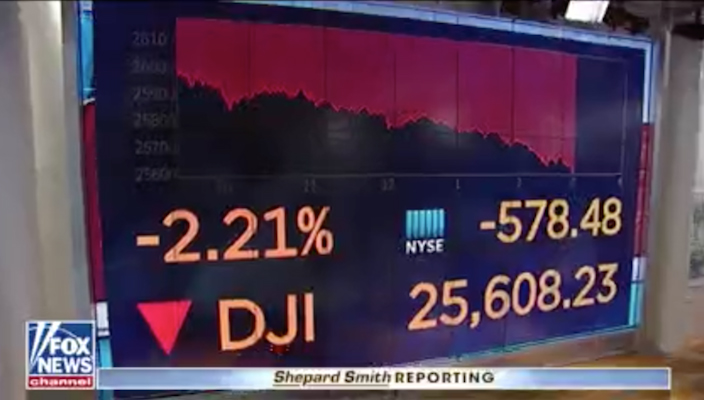 The network also frequently runs optimistic graphics regarding Trump's economy, as seen in the still below, from Neil Cavuto's show on January 31. But when paired with their coverage of the plunging Dow today, one can conclude that — gasp — Fox News might just be fair in this respect.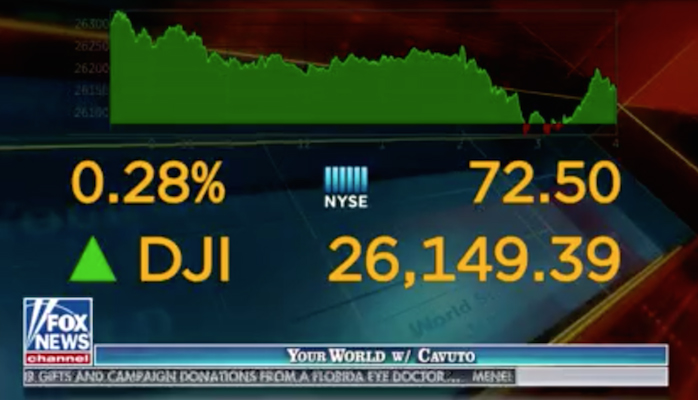 It certainly looks like there is some visual bias going on at MSNBC and CNN, at least when it comes to covering Trump's economy.
Perhaps, however, this isn't just a case of liberal-leaning news organizations piling on the president, but rather a tendency for the media, in its entirety, to chase cheap scares at all times. Everyone loves to watch a car wreck. Sex sells, but not as well as fear.
[image via screenshot]
—
Follow Lawrence Bonk (@sidescrollers) on Twitter
Have a tip we should know? tips@mediaite.com