CNN Art Critic Calls Zimmerman Painting 'Psychotic,' Compares Him with Manson and Gacy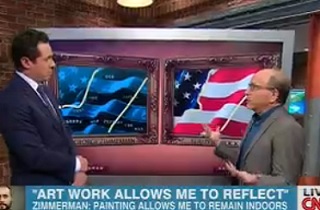 Neighborhood watchman-turned-painter George Zimmerman is headed for a big payday, but instead of being the toast of the art world, he's getting roasted over his initial effort, a flag-themed homage to Picasso, stock photography, and concrete poetry. On CNN's New Day Wednesday morning, host Chris Cuomo tapped the expertise of New York Magazine art critic Jerry Saltz, who blasted Zimmerman's effort, and was beside himself at the thought that the "travesty" puts Zimmerman in the price range of artists like Pablo Picasso, Andy Warhol, and Roy Lichtenstein.
Bidding on Zimmerman's painting now stands at $110,100.00 on eBay, despite the revelation that the piece, entitled "America," is a derivation of an arguably superior work: "American Flag" by Shutterstock.
Zimmerman's painting is a multi-layered homage/commentary on 20th century art. He cleverly inverts the artistic conceit of Warhol's "Campbell's Soup Cans," instead taking a meaningful symbol of American culture and turning it into a cheap object of commerce. Zimmerman also pays subtle homage to Picasso's Blue Period, which was inspired by the suicide of his friend Carlos Casagemas. It might also be a dig at the paltry selection at his local Michael's craft store. Finally, Zimmerman's placement of the words "one nation" physically beneath the word "God" is a clear reference to the grade-school pictograms of Salvador Dali, particularly his famous "Man Overboard."
Cuomo brought Saltz in to explain "How can someone like this, assuming you believe the worst about George Zimmerman, how could someone ever want art from someone like this?"
"Mass murderers have made art, and people have tried to buy it, have bought it, Charles Manson, John Wayne Gacy," Saltz noted, adding that "In my humble opinion, this person got away with a crime and in that sense, that is the only reason that anybody would want to buy anything that he made."
"What have we seen in terms of why, what is the fascination?" Cuomo asked. "What is the desire to buy the artwork of someone who's been connected to, or convicted for, a horrible crime?"
That's when Saltz delivered his blistering critique, telling Cuomo that Zimmerman's painting is "a travesty, a placard, a poster, something you might see in protest," but also opining that "It's a bit of confession to me."
"It's talking about liberty, justice for all," Saltz continued, marking up the painting with a telestrator. "Well, you know, it's almost like none of this ever happened. And then also, you have this is his funny little — he's almost trying to be a cause. And the cause is that I think he is is a travesty of justice, a crime. It's insipid, it's not — there's no thought in it. It's needing to be the center of attention. I think it's a bit psychotic."
Saltz also noted the similarities to the Shutterstock photo, and added that Zimmerman "Just needs attention. It's just the beginning. This guy is, I think, a kind of person heading for a fall."
Asked where the current bidding places Zimmerman in the price hierarchy of the art world, a clearly crestfallen Saltz replied "I almost can't stand that we have great artists, Picasso, Warhol, Lichtenstein, what Zimmerman made, he's not an artist. To me, what he made was a simpleton, quasi-psychotic painting, in my opinion."
He also told Cuomo that these bidders are "buying the idea that George Zimmerman, a person that, in my opinion, got away with a crime, is worthy of supporting. In my opinion, he should not even be allowed to make the money sold for this painting."
Here's the clip, from CNN's New Day:
Have a tip we should know? tips@mediaite.com