CNN Asks Carney How Mandela Influenced Obama Even Though They 'Only Met One Time'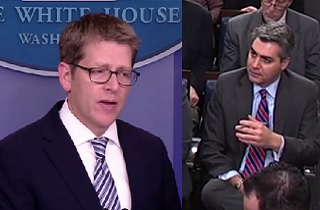 Thursday's sad passing of world civil rights icon Nelson Mandela was a frequent topic of discussion at Friday's White House daily briefing, as several reporters asked Press Secretary Jay Carney to elaborate on Mandela's influence, and on details surrounding his funeral. CNN Chief White House Correspondent Jim Acosta asked about "this great impact" that Mandela had on the President, while repeatedly stressing that President Obama had only met Mandela once.
Acosta began with a personal observation, telling Carney that "it just sort of struck me that the President talked about this great impact that he had on his life, but he only met with Nelson Mandela one time face-to-face."
"I was just curious," he continued, "for people who are wondering, if you could provide more details about Nelson Mandela's influence on the President's life. Have you had a chance to talk to him about this? I know he made some comments about this yesterday. People might just be wondering."
"They only met one time," Acosta reiterated, "but yet he had a big impact."
"Well, I think that Nelson Mandela had a profound impact on millions and millions of people around the world, and beginning with the citizens of South Africa — millions and millions of people who have never met him — who never met him," Carney said. "And the President, as senator, had the good fortune to meet him. But I don't think that's the reason why he had an influence on Barack Obama. That influence extends, as he said yesterday, well back in time."
Carney added his own perspective, as well, saying "I know those of us who were in college in the '80s remember the debates and protests that were happening on college campuses over divestment in South Africa because of apartheid. I think that's what the President was referencing in his own experience. I know I had a similar experience in college during that time. And it was a profoundly important issue internationally. And the amazing transformation that happened from that period to his release, and then not much time later, just a few years, to his election as President was part of an era of historic change around the world that I think will be remembered as such for a long, long time."
"So I know that's the — the President has spoken a lot about this, not just last night, so I would point you to what he has said in the past," Carney continued. "But it's a remarkable thing, and you guys all in broadcast and in print have been doing a terrific job of celebrating his life and noting how unique he is in world history. I mean, there is just — there is no debate around the world about the fundamental goodness of this man. It wasn't always that way, but it is today."
President Obama spoke at length about Nelson Mandela in June, when he last visited South Africa.
Here's the clip, from The White House:
Have a tip we should know? tips@mediaite.com