CNN Asks Whether 'Racist' Ashton Kutcher Ad Is 'Final Straw For Indian Americans'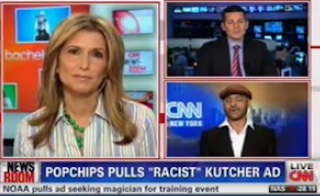 On CNN Newsroom Friday, Carol Costello spoke with comedians Dean Obeidallah and Vidur Kapur about the controversial Popchips commercial featuring Ashton Kutcher dressed in brownface, asking whether the racially-inflammatory ad was "the final straw for Indian Americans."
Kapur said he was particularly bothered by the constant pigeonholing of Indians in stereotypical roles.
RELATED: Rush Limbaugh Calls Out Roland Martin Over Racism Tweet, Martin Hits Back
"There are a lot of jokes about us, and they always are stereotypical," said Kapur. "I always get, like, for example, even in auditions, I always get called for the 7-eleven worker or the cab driver and that's about it. I mean, I could be a cheerleader. People don't think of that. And I would be great at that. But, you know, I think it's… people need to be a little more sensitive. I mean it is a joke. I don't think it was intended to be racist…"
"You're talking about the Ashton Kutcher ad now, because a lot of people thought it was because he had 'brownface,'" Costello observed. "I mean, was that the thing that took it over the line?"
"I think so," Kapur acknowledged. "I think when a white guy does a brown face… I mean he should have known better than that in this day and age. A white guy can't get away with that. You know, e can get away with more, but a white guy can't do that. You know, I think he's going to become very popular in Bollywood though, because they love white guys in Bollywood movies."
"But not with their faces painted brown," Costello added.
Obeidallah thought that while Kutcher wasn't going out of his way to be racist, he should have thought about whether he was taking things over the line.
"Can you imagine if he put blackface on and played a black man as a buffoon?" he asked. "Of course it'd be outrage. Or an Asian guy with big buck teeth and doing those old, clichéd Asian accents?"
Costello followed up by asking whether we were becoming "too sensitive" as a society. Kapur said that, yes, we are, but that Kutcher's portrayal was particularly lowbrow and, as it turns out, inaccurate. "Bollywood producers," he added, "look like Harvey Weinstein, ok?"
Popchips told CNN's Rachel Wells that Kutcher's controversial Raj character had been "removed from planned billboards that will launch on May 7, and has also been removed from its video commercial on the company's Facebook page and YouTube channel."
Watch the discussion below via CNN:

Have a tip we should know? tips@mediaite.com