CNN Battle: Does Stephen Colbert's Campaigning For His Sister Help Or Hurt Her Candidacy In South Carolina?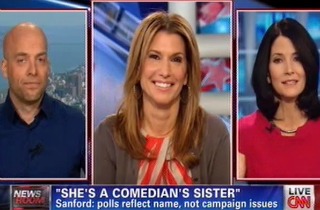 Democratic congressional candidate Elizabeth Colbert Busch is running a spirited race to replace Sen. Tim Scott (R-SC) who vacated his seat in South Carolina's 1st congressional district when he was appointed to replace the retiring former Sen. Jim DeMint (R-SC). She faces an uphill battle in the heavily Republican district, but Colbert Busch has a not-so-secret weapon on her side: her brother, Comedy Central host Stephen Colbert. On Thursday, a panel on CNN battled over whether Colbert Busch's association with her brother, and his active campaigning on her part, helps or hurts her campaign in the conservative Palmetto State.

RELATED: Stephen Colbert Goes To Battle With MSNBC's Joe Scarborough…
CNN anchor Carol Costello outlined what could be some ethical problems with Colbert's advocating for his sister's campaign on both his television program and at campaign appearances.
CNN contributor and SiriusXM host Pete Dominick said that he did not think there was a conflict, and that Colbert is a powerful and influential host who can "raise a lot of money" for candidates for public office. "She's going to win," Dominick predicted. "I think it's a done deal already."
Daily Beast columnist Patricia Murphy was more cautious. She said that the district's Cook Partisan Voting Index, which pegs the district as being 11 points more Republican than Democratic, would make it difficult for any Democratic candidate to win, even in a special election.
She added that, "it may be hard to believe but, for some conservatives in South Carolina, Stephen Colbert – if they've ever heard of him – they really don't care for him."
"This is a very conservative state and this is a Republican district," Murphy continued. "Republicans vote in special elections down there."
What do you think? Take the poll:
Watch the segment below via CNN:
> >Follow Noah Rothman (@NoahCRothman) on Twitter
Have a tip we should know? tips@mediaite.com