CNN 'Breaking News' 31 Days After MH370 Vanished: 'Families Frustrated by Media Coverage'
It has officially been one month since Malaysia Airlines Flight 370 disappeared on its way from Kuala Lumpur to Beijing, as you would from watching CNN, which has been counting up the days with a graphic in the lower left corner of the screen. On Monday morning, or Day 31, CNN's Carol Costello presented the latest piece of "Breaking News": "Families Frustrated by Media Coverage."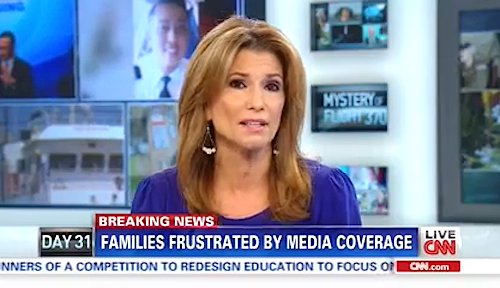 CNN and other media outlets have been offering up a continuous stream of updates on the search for a plane, including a seemingly promising break over the weekend regarding an underwater "pinging" that could be coming from the jet's black box. "Some of those families do fear that news of a pinging nose is just another report giving them false hope that this mystery will finally be solved," Costello reported, before handing things over to her colleague Joe Johns in Malaysia.
"Foreign media, including CNN, covering the missing plane mystery are taking heat in Kuala Lumpur," Johns said. "The constant drumbeat of stories and the absence of hard facts about the fate of the plane have created a public relations nightmare, and bruised the Malaysian national self-image."
By the time Johns' report ended and Costello took over, the CNN headline was no longer "Breaking News" and instead had become a "Developing Story."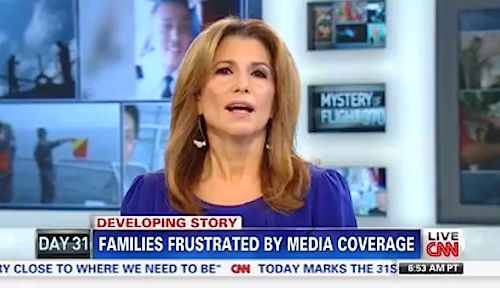 At the same time, however, Costello was once again offering up the type of hopeful coverage families of victims likely find so frustrating. Describing the search of the plane as looking for a "needle in a haystack," she teased a discussion with an expert who said those pinging sounds in the Indian Ocean "could be that haystack."
For more of Mediaite's coverage of the missing plane, check here.
Watch video below, via CNN:
[h/t Raw Story]
[photo via screengrab]
— —
>> Follow Matt Wilstein (@TheMattWilstein) on Twitter
Have a tip we should know? tips@mediaite.com