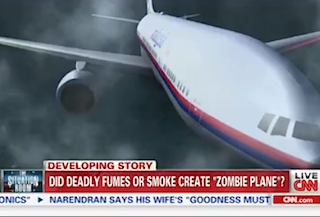 On Thursday evening, CNN shed light on a "chilling new theory" that some believe could help explain the mysterious disappearance of Malaysia Airlines Flight 370. It's known as the "zombie plane" theory and as correspondent Suzanne Malveaux explained, it has happened before.
"It sounds very ominous here, but this is a theory that could explain why and how this plane went down," Malveaux reported. She proceeded to describe what happened to a chartered Lear Jet that crashed into a South Dakota field in 1999 after flying for nearly four hours on its own. "Could Malaysia Flight 370 have also turned into a so-called 'zombie plane?'" she asked.
We know that Malaysia Airlines Flight 370 flew for several hours after communications were cut off, opening up the possibility that deadly fumes or loss of cabin pressure could have led to the deaths of everyone on board. After that point, the plane could have drifted for a long time before eventually running out of fuel and crashing.
But as Malveaux pointed out, "Skeptics say the zombie scenario is highly unlikely for the Malaysian flight, because of the behavior of the plane and the crew." An aviation analyst told CNN that the way the plane changed altitude and direction suggests someone was actively controlling its movements.
"So what is behind the credibility of the zombie plane theory," Malveaux concluded, "is whether or not you believe this is an investigation into a mechanical failure of the Malaysian flight or an investigation into a criminal act. Whether the crew switched off the aircraft systems or they just failed, giving everyone on board little time to respond or even survive."
Watch video below, via CNN:
For more of Mediaite's coverage of the missing plane, check here.
[photo via screengrab]
— —
>> Follow Matt Wilstein (@TheMattWilstein) on Twitter
Have a tip we should know? [email protected]