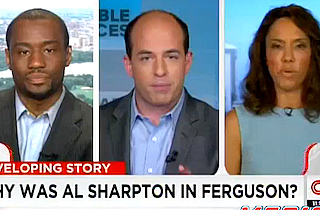 CNN's Reliable Sources considered Sunday whether MSNBC host Al Sharpton could be both a cable news host and an activist, a question raised by Sharpton's presence in Ferguson, which led the usual suspects on Fox to denounce him for inserting himself into the story.
"I don't even consider Al Sharpton an activist," said Crystal Wright, aka GOPBlackChick. "I consider him more an instigator of race wars and racial tensions in America. He's been doing this for the last thirty-plus years. He did it with Tawana Brawley way back in the 80s. This is what he does. But the crazy thing is MSNBC has given him a show. …I don't think he should be called a journalist, I don't think he should be called an activist."
HuffPost Live host Marc Lamont Hill seemed to think the entire discussion was zany, given that MSNBC is open about Sharpton's multiple roles, and given the level of activism from other cable news personalities (Hannity, after all, went to the border).
"Al Sharpton is a commentator," Hill said. "Al Sharpton is no different than Sean Hannity. He's no different than Glenn Beck was…There's not a person in America who doesn't think that Al Sharpton leans left and deal with issues of race. I think at times that work is necessary. You talk about Trayvon Martin. That story took months before it hit the national scene. It only hit the national scene because of activists, because people put the spotlight on it."
Watch the clip below, via CNN:
[Image via screengrab]
——
>> Follow Evan McMurry (@evanmcmurry) on Twitter
Have a tip we should know? tips@mediaite.com