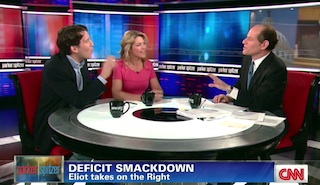 Well, whispers of Eliot Spitzer's demise as host of the 8pm show In the Arena have now been confirmed: CNN has officially cancelled the 8pm show while announcing a new prime time lineup in its place. Spitzer's spot will be replaced by Anderson Cooper's AC 360 at 8pm, and his re-air will now move to 10pm. Also, Erin Burnett's new and yet-unnamed-program will move in to the 7pm slot, replacing John King USA, which will now air at 6pm. Piers Morgan Tonight holds steady at 9pm.
Spitzer's show was the last vestige of the Jon Klein era, and the new management at CNN cannot be blamed for doing all that they could to revamp the show. In February they pushed out co-host Kathleen Parker and changed the name (and focus) of the show to Spitzer. But even that dramatic retooling could not raise the program out of its ratings doldrums, which eventually led to its demise.
CNN's full press release:
Schedule Showcases Erin Burnett, Anderson Cooper and Piers Morgan to Air this Fall

CNN has unveiled a new evening lineup with anchors Erin Burnett, Anderson Cooper and Piers Morgan to launch this fall, it was announced today by Ken Jautz, executive vice president, CNN/U.S.

Beginning Aug. 8, CNN will broadcast its flagship nightly news program AC360, anchored by Anderson Cooper, live at 8pm and re-air it in its current timeslot of 10pm.

In the fall, CNN will premiere a new general news program with Erin Burnett, which will air at 7pm ET and re-air at 11pm ET. Piers Morgan Tonight will continue to air at 9pm and 12am ET.

John King USA will kick off the evening at 6pm. The Situation Room with Wolf Blitzer will continue as a two-hour daily program, airing in a new timeslot of 4-6pm. CNN Newsroom will now air from 9am-4pm. The full programming schedule is provided below.

"The new line-up showcases anchors who are experienced reporters in covering stories that span the globe," said Jautz. "We created a nightly schedule that brings together the best of CNN's journalism on a wide range of topics from politics and the economy to global and world events, as well the best newsmaker and celebrity interviews. This line-up ensures viewers access to the best of what CNN has to offer whenever they tune in at night."

"I'm looking forward to the new time slot and am excited to share AC360 with a new audience at 8pm, while still connecting with my regular viewers at 10pm," said Cooper.

CNN Fall Schedule (All times Eastern):

6a-9am: American Morning
9a-4pm: CNN Newsroom
4pm: Situation Room with Wolf Blitzer
6pm: John King, USA
7pm: Erin Burnett
8pm: Anderson Cooper 360°
9pm: Piers Morgan Tonight
10pm: AC 360 re-air
11pm: Erin Burnett re-air
12am: Piers Morgan Tonight re-air

CNN Worldwide, a division of Turner Broadcasting System, Inc., a Time Warner Company, is the most trusted source for news and information. Its reach extends to nine cable and satellite television networks; one private place-based network; two radio networks; wireless devices around the world; CNN Digital Network, the No. 1 network of news Web sites in the United States; CNN Newsource, the world's most extensively-syndicated news service; and strategic international partnerships within both television and the digital media.
Have a tip we should know? tips@mediaite.com
Colby Hall - Founding Editor