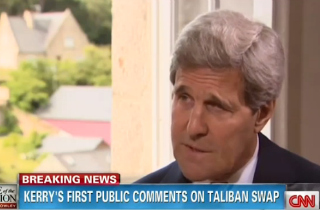 Secretary of State John Kerry sat down with CNN foreign affairs reporter Elise Labott and took some tough questions over the prisoner exchange that sent five Taliban-affiliated Gitmo detainees back overseas in exchange for U.S. Army Sgt. Bowe Bergdahl.
Labott pressed Kerry on reports that the five released detainees will now be able to freely roam around Qatar, without specific surveillance measures being taken. "On a scale of one to ten, ten being the most confident," she asked, "how confident are you that they'll be able to keep a close eye on these guys?"
"They're not the only ones keeping an eye on them," the secretary replied.
"The U.S. is going to be monitoring them?" Labott pushed back.
"I'm telling you they aren't the only ones keeping an eye on them," Kerry said. "We have confidence in those requirements. If they're violated, then we have ability to be able to do things."
Labott didn't let him off the hook there, asking for more specifics.
"I don't think anybody should doubt the capacity of the United States of America to protect Americans," Kerry vaguely responded. When Labott asked him point-blank whether that means the U.S. would go in and kill those released prisoners, he simply repeated his answer.
Labott then asked about reports that Bergdahl may have gone AWOL while in Afghanistan, and whether he "served with honor and distinction"?
"There's plenty of time for people to sort through what happened, what didn't happen," the secretary responded. "I don't know all the facts."
"Sounds like you're not sure he served with honor and distinction," Labott challenged back.
The secretary repeated his initial answer again before asserting that "it would have been offensive and incomprehensible to consciously leave an American behind, no matter what."
Watch the full exchange below, via CNN:
Have a tip we should know? tips@mediaite.com