CNN: CIA Pressuring Agents With Knowledge Of Benghazi To Keep Silent: 'You Jeopardize Your Family'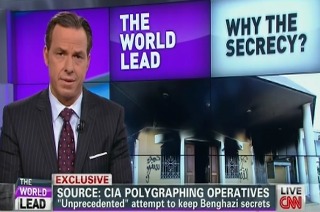 CNN's Jake Tapper broadcast a report on Thursday in which the network's reporters alleged that the Central Intelligence Agency is pressuring agents who were on the ground on the night of the deadly 2012 attack on an American consulate in Benghazi from talking to Congress or the media. The agents in question have been subjected, according to the report, to an inordinate amount of polygraph testing in order to ensure that they are not talking about the Benghazi attacks.

"Sources now tell CNN dozens of CIA agents were on the ground that night," Tapper revealed about the night of the attack, "and the CIA is going to great lengths to make sure whatever they were doing and what happened that night remains a secret."
"Since January, some CIA operatives involved in the agency's missions in Libya have been subjected to frequent, even monthly, polygraph examinations," CNN reporter Drew Griffin revealed. "The goal of the questioning, according to sources, is to find out if anyone is talking to the media or Congress."
"It's being described as pure intimidation with the threat that any unauthorized CIA employees who leaks information could face the end of his or her career," Griffin continued.
RELATED: CNN Interviews Accused Benghazi Attack Perpetrator: Not In Hiding, Claims FBI Not Looking For Him
In one communication obtained by CNN, a CIA source revealed that the threats are having the effect of preventing agents with knowledge of what happened on the night of the attack from coming forward.
"You don't jeopardize yourself, you jeopardize your family as well," an anonymous source wrote. "You have no idea the amount of pressure being brought to bear on anyone with knowledge of this operation," another source added.
"[A] source tells CNN that 21 Americans were working in the building known as the annex, believed to be run by the agency," a CNN.com report reads. "In the aftermath of the attack, [Rep. Frank] Wolf (R-VA) said he was contacted by people closely tied with CIA operatives and contractors who wanted to talk. Then suddenly, there was silence."
The CIA has denied the claims of sources CNN spoke with, and said that they have made all officers who were involved in Libyan operations available to members of Congress for interviews.
Watch the report below via CNN:
> >Follow Noah Rothman (@NoahCRothman) on Twitter
Have a tip we should know? tips@mediaite.com