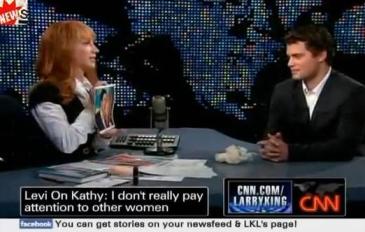 It may be the summer slump, but most cable news networks are sticking with, you know, news, to get through it. But when health care isn't drawing the ratings, the town hall protester loop gets boring and no one is drinking beers at the White House, one cabler decided to go a different route.
CNN decided not only to let Kathy Griffin take over Larry King Live at 9pmET (which she has in the past), but to conduct a full-on non-interview with Levi Johnston. It was Griffin doing a stand-up routine for more than 10 minutes, and it makes CNN's claims of being the more 'news-focused' network that much more laughable.
"Our journalistic quality is higher than its ever been," said CNN/U.S. President Jon Klein last month. And here's what that translates to:
Describing her night with Johnston after the Teen Choice Awards, Griffin said, "I have a bruise in a naughty place."
Later:
Griffin: How could you not shave, you're on Larry King.

Johnston: You said you like me scruffy.

Griffin: You're right I do like you scruffy, you dirty dog you.
This is really just the tip of the iceberg. Watch the full routine here.
Again, this is not Red Eye, Fox News' comedy/news hybrid that airs at 3amET. It's not MSNBC's sarcastic Way Too Early at 5:30amET. It's not even D.L. Hughley Breaks the News, CNN's short-lived show fronted by a comedian that did, occasionally, break some news. This is Larry King, on CNN, at 9pmET. And it is a lot of things, but it certainly is not "journalistic."
You could argue that CNN's Michael Jackson-focused prime time coverage in early July could be justified as news coverage, even if it leaned toward infotainment. Now, that facade has evaporated.
For what its worth, at least no one really seemed to give a crap about the segment. Here's the way it was teased on CNN.com (notice – misspelling that was up all night):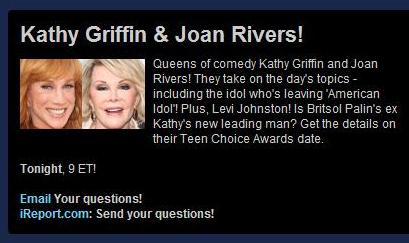 —–
» Follow Steve Krakauer on Twitter
Have a tip we should know? tips@mediaite.com