CNN Commentator Asks Marc Lamont Hill if He's Gonna Move Every Time an Election Doesn't Go His Way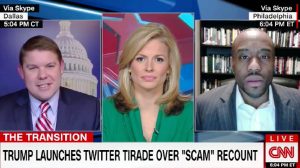 During a panel discussion on CNN this evening, conservative radio host and CNN political commentator Ben Ferguson took a shot at fellow CNN political commentator Marc Lamont Hill over the consequences of elections.
Discussing the recount occurring in Wisconsin and potential ones in Michigan and Pennsylvania, along with President-elect Donald Trump's Twitter freakout to the news, Ferguson first remarked that it would probably be a good idea for Trump to go and delete his recent tweets. He also noted that there is no evidence that millions illegally voted in the election, like Trump claimed when saying he would have won the national popular vote.
Considering that Trump may have made the very case for a recount with his recent tweets, Ferguson said that Hill would agree with him that any recounts would be "meaningless and that it would be a "waste of resources."
Hill responded that it isn't about seeing if we will get another president but that if everyone's votes counted. He also brought up the fact that there have been numerous recounts in elections before, and even if it doesn't impact the overall results, with three contested states, one state may switch its electoral votes.
"If you're in Wisconsin, don't you want to know you didn't vote for Donald Trump," Hill asked. "If I was a Wisconsinan (sp) I'd darn sure want to know if my state didn't vote for Donald Trump. That matters to future elections, it matters for funding, it matters for campaigning. And it matter, I don't want to live in state that voted for Donald Trump!"
An amused Fergsuon wondered if Hill was saying that he'd propose moving everytime his state didn't vote the way he wanted.
"Are you going to move every time you don't get your way, Marc," Ferguson asked. "That would be exhausting if that's how you decided where you're going to live based on where the election went last time."
Ferguson further noted that he stayed in America for eight years despite Barack Obama being President of the United States.
Watch the clip above, via CNN.
[image via screengrab]
–
Follow Justin Baragona on Twitter: @justinbaragona
Have a tip we should know? tips@mediaite.com