CNN Commentators Crack Up Over 'Creepy' Santorum Robocall Aimed At Democrats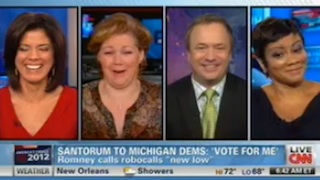 On CNN's Early Start, Zoraida Sambolin played her panelists a voice recording of a robocall that Rick Santorum was using to target Michigan Democrats. After playing the audio, the commentators bit down grins in amusement.
"Kiki, Rick Santorum is appealing to your people. Odd?" Sambolin facetiously asked.
"Well, he's trying to. I don't know that he really did. I'm not sure that I found that a compelling voiceover message on that call," Kiki McClean exclaimed, which cracked up the CNN contributors. "It was a little creepy, wasn't it?"
"It was a little odd," Sambolin acknowledged.
"I have to say, there may be some people who go out for sort of the sport of it, but I don't know that this makes a huge difference," McClean added. "I think the challenge that both Mitt Romney and Rick Santorum have are their own campaigns, so I don't know that this is going to have a real big impact and probably more stunt than it is active."
RELATED: Fraudulent Robo-Calls Feature Santorum Endorsing Romney In Michigan
Republican strategist Trey Hardin thought the robocall didn't help any of the Republican candidates.
"I don't think it says much about Rick Santorum's campaign," Hardin observed. "He has enough trouble getting votes in the Republican Party and among Independents. so I'm not sure why he thinks he can — he's going to be able to get Democrats. At the end of the day, election manipulation really does not work. It doesn't ultimately influence these elections. It is, I agree with Kiki, it's more sport or stunt because the people's right to vote is a powerful thing."
"I hate the robocall, so it would just make me hang up," Sambolin interjected, which Hardin said he would've done as well.
Goldie Taylor opined that Santorum's controversial statements over the last couple of days have hurt him politically.
"I think it isn't so much what Mitt Romney has done but what Rick Santorum has been able to do, you know, over the last several days, which is really give this race back. You know, over probably seven to ten days ago, if you told me that Rick Santorum would win Arizona and Michigan, I would say absolutely. But he really did give most of those votes back by various things he's saying on the campaign trail. Thus, I think we're going to see Mitt Romney win it in Arizona and get close in Michigan."
Watch the segment below via CNN:

Have a tip we should know? tips@mediaite.com