CNN Concocts Pressure to Fire MSNBC's Melissa Harris-Perry Over Romney Grandson Segment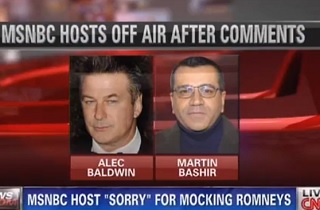 We are now into Day Four of Kierangate, the slow-news-fueled controversy surrounding an at-best tone deaf MSNBC segment that used a photo of Mitt Romney grandchild Kieran Romney as a vehicle to attack Republicans' lack of racial diversity, and CNN has upped the ante by reporting that "some" are "demanding" that host Melissa Harris-Perry be fired. If you stay through the tease and the entire report, though, you might find the evidence of an angry, firing-demanding mob somewhat lacking.
What began as online criticism of a ham-handed cable news segment has now morphed into a full-blown public cable news flogging of Dean Obeidallah, Pia Glenn, and MSNBC host Melissa Harris-Perry, who participated in said segment on Sunday's episode of Harris-Perry's show. MSNBC competitors Fox News and CNN each filled the desolate holiday weekend with multiple segments attacking the segment, while Harris-Perry and her panelists offered a round of apologies on Twitter, and elsewhere.
On Wednesday morning, CNN anchor Fredricka Whitfield teased a report on the uproar by telling viewers "Some people demanding MSNBC fire one host after she mocked Mitt Romney's black grandson," (Harris-Perry's comment on the photo had to do with imagining a Mitt Romney/Kanye West-sponsored wedding in the future) and introduced the report, by Lisa Desjardins, by repeating that claim, and grouping Harris-Perry with recently-ousted MSNBC hosts Alec Baldwin and Martin Bashir.
Desjardin's report, however, presents little evidence of such a groundswell. giving just one example of a person on Twitter who wants Harris-Perry fired. Even with more examples, a raft of tweets is an awfully low bar for a national news network to claim as a newsworthy movement to have someone fired. To this point, Harris-Perry's critics from competing cable news outlets have not suggested she be fired, nor has anyone else in Desjardin's report.
A hard news report like this, though, could certainly help start such a movement. This is exactly the fuel that a mob of people who already didn't like Harris-Perry needs to light their torches. "CNN reports pressure to fire Melissa Harris-Perry" is a fine tune for conservative media outlets to echo, and legitimate enough to appear on other cable networks.
"Reporting" on your direct competitors in the news media shouldn't be off-limits, but the inherent conflict of interest means that there ought to be a much higher bar for accuracy and fairness, neither of which CNN met in this case. Harris-Perry's show has ranked number one in the younger 18-34 year-old demo for two years, which gives her competitors an incentive to see her ousted. Stretching some tweets into a newsworthy movement only serves to highlight that incentive.
Here's the clip, from CNN:
Editor's note: This post has been edited since its original posting (The host is Federicka Whittefield, not Zoraida Sambolin as originally stated) – Jon Nicosia, Mgr. Editor
Have a tip we should know? tips@mediaite.com