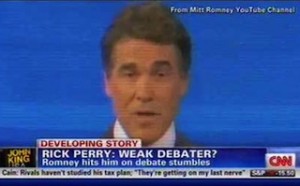 Mitt Romney's presidential campaign created quite a stir with an anti-Rick Perry ad, pegged to his poor performances in televised debates, that's been described as "brutal" and "a symphony of Gump-ishness." The ad acquired Faces of Death-style notoriety when the Romney campaign pulled it from YouTube, later explaining that it had done so at CNN's request.
Given the traditional reliance of campaign ads on debate footage, we contacted CNN to confirm, and clarify, the Romney campaign's claims about why the ad was pulled.
When the ad was first pulled, it might have seemed, to some, that the Romney campaign had decided the ad was over the line. The campaign told TPM that they had pulled the spot at CNN's request, despite contending that "use of the CNN clips was fully within our rights under the law," a reference to the Fair Use exception under copyright law that pretty much allows the new media to exist.
A spokesperson for CNN confirmed, to Mediaite, the fact that they did ask the Romney campaign to pull the ad. "CNN did not consent to the use of its copyrighted material for this ad, and CNN objects to the use of its talent in any campaign ad. We respectfully requested that the Romney campaign not use CNN material in their campaign ads and they complied."
Fortunately for political admen, this doesn't apply to CNN debate clips.  The network has been clear that CNN will be liberal about use of footage from the debates themselves. The objection arose from the ad's use of clips from other CNN programming. CNN contributor Erick Erickson, who was featured in the ad, pointed out that "The timeline on the comments in the video is grossly distorted," and didn't seem all that happy to be the star of a Romney campaign ad. The Romney campaign also made an unwitting star of Fox News Senior White House correspondent Ed Henry last week, including him in an ad aimed at President Obama.
Fair Use is probably the most overused legal doctrine since King Solomon offered to blockquote the baby, but generally speaking, it's not worth the time and trouble to argue with someone who objects to a fair use exception. If someone asks you not to use your clip, it's usually a good idea to just not use it.
Have a tip we should know? tips@mediaite.com