CNN Contributor Defends Paul Ryan $1.50 Tax Cut Tweet: 'People Shouldn't Be Sneering'
CNN contributor Mary Katharine Ham defended Paul Ryan on Monday, after the House Speaker was roundly mocked for touting the GOP tax bill on Twitter by highlighting a woman who got a $1.50 per week pay bump thanks to the law.
In a now-deleted tweet, Ryan linked to an AP report on the people benefitting from the tax cuts, which included a secretary at a public high school who "was pleasantly surprised her pay went up $1.50 a week," which would "cover her Costco membership for the year":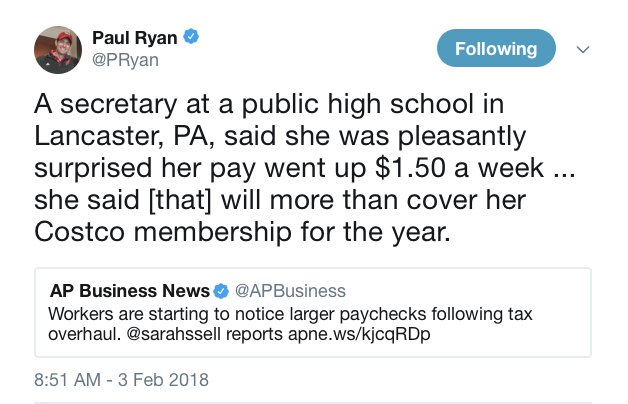 Ham, a conservative writer for hot-take sweatshop The Federalist, defended Ryan against the mockery his tweet received — after former Clinton campaign manager Robby Mook called the Republican's celebration of the pay increase "absurd."
"The Speaker shouldn't have deleted the tweet," Ham said. "I am mystified that Democrats and liberal activists think that the right take here is to call a woman who did get a tax cut, and finds it beneficial to her middle class family, 'absurd.'"
"People shouldn't be sneering at somebody who's buying a Costco membership with the result of this tax cut," she continued, before claiming the AP story is "an indictment" of Democratic arguments against the tax bill.
"People were told they were going to die by tax bill, and it turns out they paid for their Costco memberships," Ham said. "No wonder she's excited about that: she didn't die and she got a $1.50 a week."
Watch above, via CNN.
[image via screengrab]
—
Follow Aidan McLaughlin (@aidnmclaughlin) on Twitter
Have a tip we should know? tips@mediaite.com
Aidan McLaughlin - Editor in Chief