CNN Contributor: Ron Paul Supporters Are Like 'The Postal Service'; Come Hail, Snow Or Sleet, They'll Be There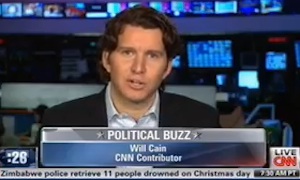 During Monday's CNN Newsroom, political contributor Will Cain agreed with former Arkansas Governor Mike Huckabee's assertion that bad weather on caucus night in Iowa could bolster Ron Paul to victory.
"I think Mike Huckabee's exactly right on this. Ron Paul fans we know are extremely intense, extremely passionate. They're like the Postal Service. They're going to come out in hail, sleet, snow, wind, straw poll, internet chat board — they're there for him," Cain opined. "While Mitt Romney's the default candidate. With the default candidate, you look outside, it's cloudy, the hell with it, I'm not going out. I think that Mitt Romney can't change his strategy. All he can do is be there for them when they reject their front-runner for the moment, it has worked for him so far, he just has to stick with it."
RELATED: Associated Press Reports No Campaign In Iowa Has More Than 20 Paid Staffers
"I think Huckabee should get a job at the Psychic Friends Network," TheGrio columnist Goldie Taylor joked. "The Ron Paul supporters — they are extraordinarily loyal, extraordinarily passionate. They're going to come out no matter what the weather is."
"The Romney supporters–yeah, they are a bit soft and it's just going to be tough for him to win in a place like Iowa when you've got somebody like Ron Paul doing the job," she added. "Conservative Iowans just don't trust Mitt Romney."
XM host Pete Dominick suggested Romney needed to come off as "less Mormony and more evangelical" in order to win the hearts of Iowa voters.
Anchor Hala Gorani noted that at the moment Rob Marciano was predicting mild weather for Iowa on January 3rd.
Watch Cain's forecast that bad weather would be good news for Ron Paul fans via CNN:

Have a tip we should know? [email protected]