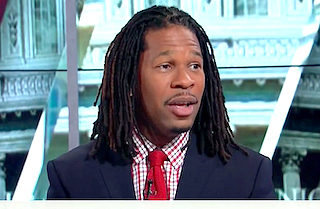 CNN contributor LZ Granderson said on State of the Union Sunday morning that the black community was doing a disservice to itself by letting "charlatans" swoop into situations like the one in Ferguson and cause trouble. Granderson didn't want to name names, but all agreed that the man he was talking about has a last names that rhymes with Harpton.
"I think the black community does a disservice to itself when it allows charlatans to come into these situations, make a name for themselves and then evacuate the situation," Granderson said. "The situation in Duke, for instance, with the lacrosse players — we rushed in, automatically assumed the black woman was right and that all these white males on the lacrosse team were wrong. When we found out that she was lying, there was no apology, there was no recognition of the lie, we just moved on, and that left bad taste in a lot of people's mouths."
RELATED: CNN: Can Al Sharpton Be Both Cable Host and Activist?
Granderson said it cut both ways.
"On the flip side when you have something blatantly racist going on, for instance what happened with Trayvon Martin, and white people just want to move on and say it's a tragic situation — no. Acknowledge it, because if you at least acknowledge it, that means you understand me and hear me and then I can believe that you're for me."
Watch the clip below, via CNN:
[Image via screengrab]
——
>> Follow Evan McMurry (@evanmcmurry) on Twitter
Have a tip we should know? tips@mediaite.com