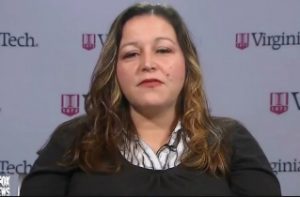 On Tuesday's Happening Now, Fox's Jenna Lee spoke with the woman who asked the question that former CNN contributor Donna Brazile gave to Hillary Clinton's campaign before a CNN presidential debate.
Lee-Anne Walters identified herself as the "woman with a rash" who wanted to ask Clinton about her plan to address the poison water crisis that continues to afflict Flint, Michigan. Hacked emails from WikiLeaks revealed that when Brazile was still with her old network, she somehow got hold of Walters' question, and then sent campaign chairman John Podesta advanced notice of what was coming.
When asked how she felt about the news, Walters said that Clinton "should be disqualified because she had had an advantage she shouldn't have had." Walters also said that she was "disgusted" by Clinton's answer, describing it as a "cop-out" that would not adequately address the lead in the city's water.
As she talked about the questions she proposed to CNN, Walters said she didn't know whether it was through a producer or by other means that Brazile got the final question. Walters said she remains an undecided voter, and when asked for her thoughts about Donald Trump, her only response was "no comment."
The Walters question is the second topic that Brazile is believed to have provided to the Clinton team. CNN has cut ties with Brazile, and her actions have prompted criticism from her own network and from other figures.
Watch above, via Fox.
[Image via screengrab]
— —
>> Follow Ken Meyer (@KenMeyer91) on Twitter
Have a tip we should know? tips@mediaite.com