CNN: Dems, Obama 'Bludgeon Republicans' Over Issue They Balked at Addressing in Budget Deal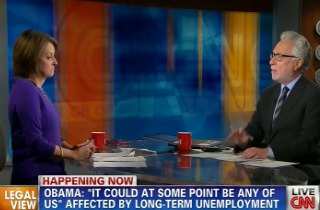 Following the conclusion of President Barack Obama's White House address in which he urged Congress to pass an extension of long-term unemployment benefits, CNN's Gloria Borger and Wolf Blitzer discussed what the president accomplished with that address. They observed that both Obama and the Democrats are attacking Republicans over an issue they failed to address in a recent budget deal. However, according to Borger, the issue of extending benefits and inequality in general will be a winning one for Democrats.

"If this is so important to the country, why didn't the democrats and the president insist that it be included in that budget deal that was worked out at the end of last year to keep the government open for two years?" Blitzer said, noting that this was a question he is often asked.
"The cynics would say, here you are, you have a great political issue to bludgeon Republicans with," CNN's phief political analyst said. "I think there are lots of Democrats who raised that same question."
RELATED: Liberals Getting Heated in Frantic Effort to Shift Political Focus to 'Inequality'
"It's a legitimate question to raise," Borger conceded. "Why wasn't this done, if it's that important, before Congress went off on recess?"
She did, however, insist that this issue is a strong one for Republicans.
"In the long term, Wolf," Borger insisted, "what it may start is another debate in the country about how you can use government in a limited way — not in a large way, but in a limited way — to help the people at the bottom of the ladder get to at least the middle rungs."
Watch the clip below via CNN:
[Photo via screen grab ]
— —
> >Follow Noah Rothman (@NoahCRothman) on Twitter
Have a tip we should know? tips@mediaite.com