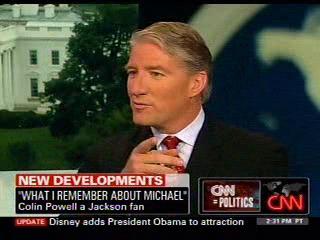 While Fox News and MSNBC have turned the surprise news of Gov. Sarah Palin's resignation into a wall-to-wall afternoon and evening of crashed coverage, there's one news outlet that decided to stick to the script.
For "The Most Trusted Name in News," CNN, Palin was a story — and a big one. But throughout The Situation Room and beyond, it was just one of the many topics touched on by the network. If Palin got the gold, Michael Jackson came in with the silver.
The MJ story is nothing new at CNN — the network has covered it more than any other cable news outlet during the last week, with prime time devoted almost entirely to the various story lines. But in the wake of a major political news development, the Jackson focus was striking.
The push to get Jackson news on the air was never more evident than just before 5:30pmET, when fill-in anchor Suzanne Malveaux introduced CNN's senior political analyst, Bill Schneider. "Suzanne, you may be surprised to hear there was something political about Michael Jackson," Schneider began.
What really is surprising is the fact that Schneider never talked about the Palin news (or got to do any political analysis). Instead, he did his Jackson hit as planned, and was quickly followed by State of the Union anchor John King, who discussed his pre-taped interview with Gen. Colin Powell. About? You guessed it — Michael Jackson.
CNN's Jackson coverage has been far and away the most expansive of any cable news network, but when political analysts start commenting on Jacko instead of Palin, something odd is at work. The "gotcha" journalists at CNN were a little preoccupied.
—–
• Follow Steve Krakauer on Twitter
Have a tip we should know? tips@mediaite.com