CNN Expert on Mandela Memorial Sign Language Fake… Doesn't Know South African Sign Language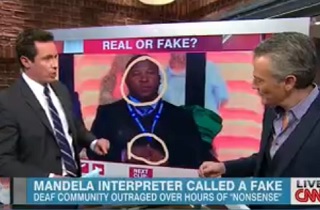 With the passage of time, the media obsession with selfies and handshakes has given way to an appreciation of the truly important aspect of Nelson Mandela's memorial service: allegedly fake sign language interpreter Thamsanqa Jantjie. On CNN's New Day Thursday morning, the gibberesticulating interpreter got the full CSI treatment from an expert on sign language, American Sign Language interpreter and actor Jon Wolfe Nelson, who told anchor Chris Cuomo: "I am not a linguist and I do not know South African sign language."
That didn't stop Nelson from analyzing Jantjie's performance, though, because Nelson's expertise in sign language allowed him to render an opinion based on other factors. For example, "He's not using any facial expressions," Nelson observed. "Any interpreter, any person who uses any sign language, will use their face and body to convey the intent, the emotion."
To overcome the language barrier, Cuomo also played a comparison clip of a genuine sign language interpreter providing translation for the television broadcast of the memorial.
Nelson explained that "interpretations will vary from interpreter to interpreter because of the lens they bring to the job, and how they choose to represent the message. This woman is actually creating phrases. It looks like she's using actual language. This," he said, indicating Jantjie, "is not."
Cuomo also asked Nelson to refute Jantjie's claim that schizophrenia affected his performance. "You're not a psychologist, I understand," Cuomo noted, but asked, "Have you ever heard of somebody having some type of breakdown that destroyed their ability to translate?"
"I have not," Nelson replied. "If the person knew sign language, one would assume that regardless of their mental state, they would actually still be able to create language for themselves. This is not sign language."
He also explained that, even in the United States, incompetent interpreters can find work, but that his company, Sign Talk, carefully vts its interpreters.
"Just to be clear, unless we learn something about the psychology of this, the illness of it, that changes our analysis, is this man a real translator?" Cuomo asked.
"In my opinion, no," Nelson responded.
Sharp-eyed CNN viewers might recognize Jon Wolfe Nelson from his appearances in such television shows as The West Wing and The L Word.
There is an ableist thread running through this story regarding the apparent double-standard in the treatment of complaints from deaf audience members, which went unheeded for hours, when an incoherent verbal translation would likely have been identified quickly. That thread is underscored by the fact that CNN was unable to locate an expert who actually understands the language being translated, who could have rendered a judgment much more quickly and authoritatively.
Here's the clip, from New Day:
This is an opinion piece. The views expressed in this article are those of just the author.