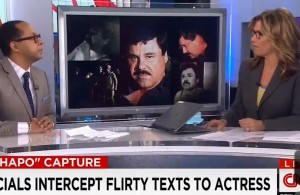 No matter what the situation, cable news has an expert for that. On CNN Newsroom Thursday morning, anchor Carol Costello filled some time interviewing "America's Psychologist" Dr. Jeff Gardere about the hidden motivations of Mexican actress Kate Del Castillo, whose flirty texts helped lead to the capture of Joaquín Guzmán, better known as El Chapo. I guess being America's Psychologist leaves you with lots of time on your hands after you've said "Penis envy" and called it a day.
Del Castillo, a famous telenovela actress who has appeared in U.S. TV shows like Weeds, CSI: Miami, and Jane the Virgin, has a history of pro-El Chapo tweets and texts, and was instrumental in setting up the Sean Penn interview that resulted in Guzman's capture.
Their social media and texting history got Carol Costello wondering why El Chapo would risk capture in a likely-vain attempt to hook up with a famous actress, and why would a famous actress like Kate Del Castillo mess with a murdering misery-peddler (alleged) like El Chapo? I can't vouch for El Chapo, but in Del Castillo's case, it might have to do with the fact that she radiates the hotness of a thousand suns.
Dr. Gardere's analysis was fairly straightforward, she's the unattainable "forbidden fruit" and he's the fixer-upper she wants to turn into a "trafficker in human rights," but he did offer one truly inspired observation:
Dr. Gardere: There certainly, I think, was a lot of fantasy there. Perhaps some longing. But you have to understand Del Castillo had written to him once before and saw the potential in him and had asked him, had implored him to become this trafficker of human rights instead of drugs.So he may have fallen in love with the idea of falling in love with her, like Beauty and the Beast. She sees the true beauty.

Carol Costello: So on some level she knew he was evil and yet this —

Dr. Gardere: And perhaps he really feels, in one interview he says I'm not a violent person. So she understands me like no one else understands me.
That is genius. Personally, I'm looking forward to the scene where Mrs. Potts falls off a table and breaks, and two kilos of uncut blow jump up from the debris singing "Be our guest!" while Lumiere tells the Federales to say hello to his little friend. I guess Sean Penn will be the bad guy who gets his neck snapped at the end.
Is it news? No, but there are worse ways to kill time on cable news.
Have a tip we should know? tips@mediaite.com