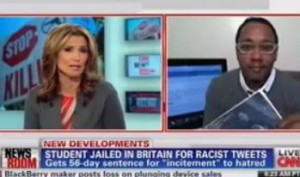 One of the unfortunate by-products of the Trayvon Martin tragedy is the existence of a Twitter account calling for the death of George Zimmerman, the man who shot and killed the 17 year-old, claiming self-defense. On CNN this morning, HLN digital lifestyle expert Mario Armstrong explained why Twitter has, thus far, elected not to delete the "@KillZimmerman" account, which has become yet another opportunity to distract from the fundamental injustice that this story illustrates.
On CNN Newsroom this morning, anchor Carol Costello played a clip of Robert Zimmerman Jr., brother of George Zimmerman, telling Piers Morgan that he didn't want Trayvon Martin's memory to be tarnished by the likes of this Twitter account, in the form of a message to Trayvon's mother, Sybrina Fulton.
"To Trayvon's mother…" Zimmerman, Jr. said, "this is a tragedy, her son was lost…I want not for her son's memory to be seen as how we degraded our system, and turned it into mob rule, and went into a hate speech…carnival of hatred and 'let's go get him,' and tweeting addresses…"
Costello followed up with a segment explaining Twitter's Terms of Service, which HLN's Mario Armstrong described as "hands off" when it comes to "offensive content," and spoke of some Twitter users' concerns that such a deletion would be a "slippery slope."
Costello also read a statement from Twitter, which said "We don't comment on specific users or the status of accounts for privacy reasons."
At this moment, the @KillZimmerman account is still active, and features a photo of George Zimmerman (his 2005 mug shot) overlaid with crosshairs.
This is an idiotic conversation. Of course, Twitter should delete this account, and any other that explicitly calls for violence. It's not a "slippery slope," Twitter isn't the Supreme Court, bound forevermore by precedent. This is an easy judgment to make. Furthermore, people like the user who created this account, or Spike Lee, or the New Black Panthers, who are suggesting that people take the law into their own hands are perverting the meaning of this tragedy.
What's worse, though, is that this tiny fraction of the millions of people who are rightly outraged by the conduct of the police in this case, of the people on all sides who agree that, regardless of George Zimmerman's innocence or guilt, this story clearly illustrates the value that our society places on the lives of young black men, is giving people an excuse to look away from all that. They're giving people like Robert Zimmerman, Jr. the chance to advance the offensive notion, to the mother of the boy his brother killed, that a Twitter account with 433 followers can define the legacy of a slain teenager who was left, nameless, in a morgue for three days while his killer was allowed to walk free on a pinkie-swear of self-defense.
Here's the clip, from CNN Newsroon:
Have a tip we should know? tips@mediaite.com