CNN Explores Media Concerns As GOP Presidential Field And Fox News Roster Intersect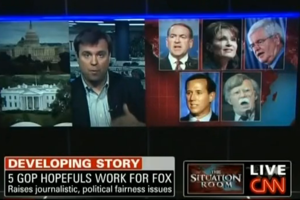 With the 2012 elections less than two years away and the campaign cycles growing increasingly longer, Wolf Blitzer today took on the GOP primary field and, particularly, the fact that so many of them work for Fox News. Should they run, their exclusivity contracts wouldn't just affect direct competitors like CNN– local stations and apolitical stations like C-SPAN would need approval from Fox News to use footage of their employee-candidates, too.
Politico's Jonathan Martin, who along with Keach Hagey penned a piece on the matter this week, asks that very question, and joined Blitzer earlier today to talk about this be "new terrain" in the relationship between politics and news media. Of highest importance to Martin seems to be the possibility that these candidates will make "campaign" stops that, being unofficial, will be unregulated by either Fox or the conventional rules of presidential politics, even if the candidates leave Fox News before they officially announce a run.
Then there are the contractual issues: who gets to interview whom when Fox News contracts explicitly declare exclusive privilege over their talent? Martin notes that this will be particularly problematic for C-SPAN.
But fixing the problem will be difficult when there is no candidate incentive to leave Fox News, nor is there an incentive for Fox News to drop their candidates because "every time they make news," Martin explains, "it'll happen on your air."
Fox, in a statement to Politico, said that they will probably sever their career ties with candidates once they launch their campaigns, and explained further:
"All contributors are exclusive to Fox News. On occasion, they will make appearances on other networks — when they have books to promote — and in those cases their contributor agreements are suspended during that period. Fox News has made rare exceptions for various contributors in terms of appearances on other networks, but instances are few and far between."
Beyond all of this, it's worthy of note that there are serious discussions about the 2012 primaries happening on our airwaves already. This is going to be a very long election season.
The segment from today's CNN Situation Room below:

Have a tip we should know? tips@mediaite.com