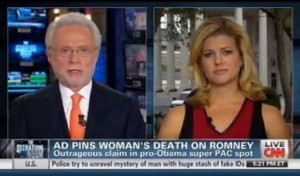 The Jason Voorhees-brutal ad from pro-Obama SuperPAC Priorities USA Action suggesting that Mitt Romney shares some blame for the death of a former steelworker's wife has been the hot topic in Washington, DC today. Earlier this afternoon, CNN's Brianna Keilar and Wolf Blitzer performed some fact-checking on the ad, and while they showed that the ad didn't tell the whole story, the ad's central point, fair or not, stands.
The ad in question features GST Steelemployee Joe Soptic telling the story of how, following the closure of the Kansas City GST Steel plant, he was unable to provide health insurance for his family. "When Mitt Romney and Bain closed the plant," Soptic says, "I lost my healthcare, and my family lost their healthcare. And a short time after that my wife became ill.
"I don't know how long she was sick and I think maybe she didn't say anything because she knew that we couldn't afford the insurance," he continued, "and then one day she became ill and I took her up to the Jackson County Hospital and admitted her for pneumonia and that's when they found the cancer and by then it was stage four. It was, there was nothing they could do for her. And she passed away in 22 days."
Keilar points out that Mitt Romney "left Bain Capital" in 1999 (but remained CEO) to run the Winter Olympics, while Soptic's plant was closed in 2001. Whether you think being an absentee owner absolves Romney for the closure, the fact is that he definitely was at Bain Capital when they saddled GST with hundreds of millions in debt in order to pay themselves dividends.
Keilar also spoke to Joe Soptic, and found out that when he lost his GST job, his wife still had her own job, with her own health insurance, which she then lost in 2002 or 2003 when an injury forced her to leave the job. None of that changes the fact that Joe Soptic was then unable to afford insurance for her. She passed away from cancer in 2006, five years after the plant closing.
Now, the Priorities ad definitely gives the impression of a much shorter timeline, but from listening to Joe Soptic's story, a reasonable person would still figure that this all took years, not months or days. The omitted details would have muddied Soptic's message, and probably not have fit into a 60 second commercial.
However, when you're putting out an ad that is this jump-the-shark-then-break-the-shark's-spine brutal, you really ought to cross the T's and dot the I's. I don't see how these facts change the central point of the ad, but they do give people an opening to change the subject.
Fair or not, the ad has made people stand up and take notice, but the reaction has been blistering. I interviewed Wolf Blitzer this afternoon (publishing tomorrow), and when we talked about this ad, he told me they were doing a fact-check for The Situation Room, and that he planned to have on Bill Burton and CNN contributor Paul Begala, who is also a member of Priorities. By the time the show aired, they were both unavailable.
Here's the video, from The Situation Room:
Have a tip we should know? tips@mediaite.com