CNN Fact-Checks Rachel Maddow, Alex Castellanos Feud Over Gender Pay Gap: Determines Maddow Right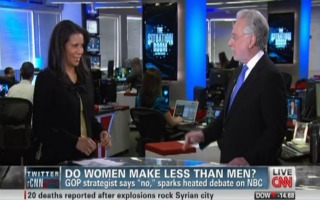 On Sunday's Meet the Press on NBC, CNN contributor Alex Castellanos and MSNBC host Rachel Maddow engaged in a heated debate over the reasons behind gender inequality and salary discrepancies in the work place. On Monday, CNN's Wolf Blitzer and reporter Lisa Sylvester fact-checked the debate and found that Maddow was on the correct side of their argument.

RELATED: Rachel Maddow Coolly Smacks Down 'Condescending' GOP Strategist On MTP
"The question: Is there an earnings gap between men and women," asked Sylvester. "And the answer, according to the Census Bureau, is yes."
Sylvester profiles Lisa Maatz, American Association Of University Women's director of public policy and government relations, who told CNN that as an adjunct professor she often sees her male counterparts making more than their female colleagues.
"Castellanos makes two points: that men make more because they work more and they go into professions that pay higher salaries," says Sylvester. "But data directly from the Census Bureau shows there is a pay gap and it's real."
CNN reports that the United States Census Bureau found that in 2010, "the earnings of women who worked full time, year-round were 77 percent of that for men working full time, year-round."
Maatz concedes that, following a regression analysis that takes into account the issues that Castellanos raised on Meet The Press, the gender pay gap does shrink. However, she says there is still a gap and therein lies the problem because it is unexplained.
"We can't say it's because [women] work less hours, or they supervise fewer people," said Maatz.
"So the bottom line, though. If men and women worked the exact same job, do women still only earn 77 cents on the dollar," asked Blitzer.
"There is definitely a gap," said Sylvester. "But there are all kinds of other control factors. What college somebody went to. What region of the country. Whether you're talking about salaried workers or part-time workers. The average full-time workers, the difference in pay is 77 cents on the dollar."
However, Sylvester says that if you control for all factors, the pay gap shrinks to approximately 5 cents more for men than for women. "It is still there, it is still real and the truth is men make more than women," Sylvester concluded.
UPDATE: Castellanos has published his response to Maddow in the Daily Caller — and CNN — in which he outlines exactly why women make less than men.
In my rush to stop Maddow from challenging us to solve a problem we do not have, and unknowingly fabricating evidence of the Republican war on women, I did something wrong, however. I interrupted her and I apologize for that.

If she does a segment on her show about the legitimate causes of wage disparity, I'll be sure to watch. But please don't tell my bosses at CNN.
Watch the segment below via CNN:
Have a tip we should know? tips@mediaite.com