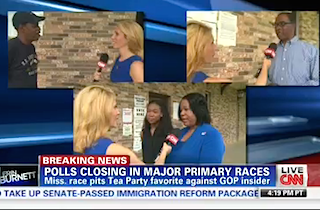 Polls are about to close in Mississippi where Republican Senator Thad Cochran is currently trying to fight off a primary challenge from the tea party-backed Chris McDaniel. CNN's Dana Bash traveled to Mississippi Tuesday where she confirmed some of McDaniel's worst fears by finding a handful of African-American Democrats who came out to vote for Cochran.
"It may be a Republican runoff between GOP incumbent senator Thad Cochran and tea party challenger Chris McDaniel, but to these Democrats, allowed by law to vote in this race, party doesn't matter," Bash said, before showing short interviews she conducted with black voters outside polling places today. The "life-long Democrats" voted for their first Republican candidate on Tuesday, presumably thanks to increased outreach Cochran has done to that demographic.
The outreach has caused McDaniel to further question Cochran's conservative credentials. "It's unfortunate," the tea party candidate said. "The Republican Party has a primary for Republicans. That's the way it's designed, that's the way it's supposed to be. … By reaching out to liberal Democrats (Cochran) has confirmed what we've always known — that he doesn't have our best interests at heart."
Both tea party and NAACP groups have installed poll watchers across the state today to monitor and potential voter fraud scenarios. While Democrats are allowed to vote in Republican primaries in Mississippi, it is technically illegal for anyone who intends to ultimately vote against the winner of that primary to cast a ballot for them now.
Watch video below, via CNN:
[Photo via screengrab]
— —
>> Follow Matt Wilstein (@TheMattWilstein) on Twitter
Have a tip we should know? [email protected]