CNN Finds Way to Revitalize Town Halls; Will Feature All 3 GOP Candidates and Their Families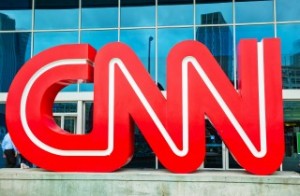 First there were the debates: 24 million viewers for Fox News in the dead of August. 23 million for CNN one month later. Context: The first GOP debate in 2007 attracted just 1.8 million viewers. In 2011, the first Republican debate did better, but was still only watched by 3.3 million viewers.
In 2015, CNBC and Fox Business followed Fox News and CNN's roll with their highest network ratings ever for the respective debates that each would broadcast in October and November, respectively. The numbers finally began to wane somewhat as the holidays rolled around and 2016 brought some debate fatigue. But to still see numbers like 18 million or 16 million in 2016 was simply remarkable given the aforementioned numbers of past elections in the cable news era.
Didn't matter if we're talking Fox, CNN, or MSNBC, all were seeing huge ratings increases across the board — far bigger jumps than we saw year-over-year from 2011 to 2012 or even 2007 to 2008. Donald Trump has played a huge role in this explosion, no doubt… but the presidential political process as a whole regardless of candidate or party have captivated much of the nation for no other reason than the pure unpredictability and insanity of it all.
So when the debates went from 2-3 times per month to almost non-existent, Town Halls became all the rage, with CNN going all-in on the format and Fox and MSNBC seeing instant benefits as well. It seemed a night couldn't go by without a Town Hall happening somewhere. And refreshingly, Republicans were doing them on MSNBC and Democrats on Fox.
But like we witnessed after one-too-many debates, the bloom eventually is off the rose on the Town Hall front. After all, there's only so many times you can hear Trump be asked exactly how he's going to get Mexico to pay for a wall or listen to Hillary Clinton explain why she changed (sorry, evolved) on her positions on X, Y, Z. After about the 17th Town Hall, the whole thing just began to feel so… stale.
So starting tonight in an effort to offer viewers something fresh and new in a way only this reality TV of a campaign season can, CNN plans on broadcasting three Town Halls that will include the families of the three remaining GOP presidential candidates. John Kasich, wife Karen and daughters Emma and Reese get the stage at 8:00 PM tonight. The Trumps — including Donald, wife Melania and adult children Eric, Ivanka and Donald Jr. — will be under the spotlight Tuesday night. And Ted and Heidi Cruz cap matters off on Wednesday before Hillary and Bernie square off in a CNN-televised debate from Brooklyn on Thursday night.
Verdict on this programming decision: Thumbs up. Note: Fox's Sean Hannity recently hosted a Town Hall with Donald and Melania Trump, and from this perspective, it was a big success in terms of both ratings and content. There was just something compelling about seeing the candidate have that look many of us do when getting lovingly and publicly scolded by the wife for our bad habits/what drives them crazy… and to hear Mrs. Trump express her reservations around Mr. Trump's Twitter addiction, for example, was a nice change of pace from hearing the candidate run down all the latest polls and voter participation numbers.
We can talk about all we want about the better candidate ultimately winning in the primaries and the general, but let's face it. The whole package: family, personality… the human side… is important to those who vote but don't pay too much attention to the political stuff deep in the weeds. And while it may not sway many votes, it does make for worthy television to see the candidate in other less familiar roles such as husband or father.
The Kardashian franchise didn't grow to the cash cow it is today solely because of Kim. The original Duggar series could have stayed on the air for years longer if not for Josh's terrible transgressions. One person can only carry a show for so long. And reality TV is always about expanding or creating new plot-lines and introducing new characters to freshen things up.
That's what CNN does this week: the GOP candidates and their families' Town Halls. The numbers should be solid, perhaps even tops in the demo. A stale package becomes re-packaged, the bloom gets put back on the rose.
In a year where the campaigns all have that reality TV feel, this kind of offering only makes sense.
— —
Follow Joe Concha on Twitter @JoeConchaTV
This is an opinion piece. The views expressed in this article are those of just the author.