CNN Formally Severs Ties With Donna Brazile: 'Completely Uncomfortable' With Question-Sharing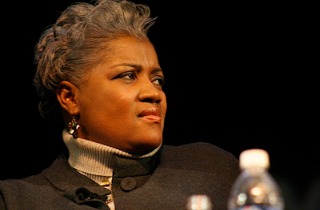 CNN has formally severed ties with commentator Donna Brazile, a spokesman confirmed to Mediaite Monday.
CNN and ABC News had both suspended Brazile after she was tapped to serve as acting DNC head following the resignation of Debbie Wasserman Schultz. In theory, that arrangement was only temporary, but CNN made it permanent as late as two weeks ago in the wake of hacked emails showing she provided questions in advance to the Hillary Clinton campaign.
"On October 14th, CNN accepted Donna Brazile's resignation as a CNN contributor," said CNN spokesman Lauren Pratapas in a statement.
"CNN never gave Brazile access to any questions, prep material, attendee list, background information or meetings in advance of a town hall or debate," she added. "We are completely uncomfortable with what we have learned about her interactions with the Clinton campaign while she was a CNN contributor."
Brazile herself seemingly publicized the split on Twitter.
Thank you @CNN. Honored to be a Democratic Strategist and commentator on the network. Godspeed to all my former colleagues.

— Donna Brazile (@donnabrazile) October 31, 2016
On Monday, a new email released by WikiLeaks showed Brazile informing the Clinton campaign that the March 6 CNN Democratic debate would feature a question from a Flint resident suffering from the city's water crisis. A CNN source tells Mediaite on background that Brazile was not provided the debate question by the network, saying that Brazile was spotting chatting with the woman at an earlier event in which CNN personalities provided Flint residents with free water.
[Image via screengrab]
—
>>Follow Alex Griswold (@HashtagGriswold) on Twitter
Have a tip we should know? tips@mediaite.com