CNN Gets The Help Of Iowa GOP Operatives 'Edith And Carolyn' To Solve Missing Vote Mystery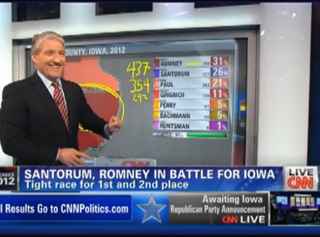 CNN had a few great moments way past midnight tonight– the loosening of the proverbial tie happening somewhere around 1:30 AM. But the votes had still not come in, and an industrious producer put Wolf Blitzer in contact with the Clinton County, Iowa Republican Chairwoman, Edith Pfeffer, and the woman who woke her up to get the votes to CNN, Carolyn Talett.
RELATED: Watch The Entire CNN Team Lose It At 1:30 AM Waiting For Iowa Results
Talett explained that she had "received a call at about 12:20 from state central committee asking if I knew how to get a hold of someone from 2-2." This made her call Pfeffer, who didn't answer her phone, so Talett "came to Edith's home and pounded on her door and got her up." After getting her up, CNN called.
Pfeffer explained that she had sent the results in at 7:48 PM, so she did not understand why she was still needed or what the state did with her votes. Since Pfeffer had the results of her precinct, and these were suspected to be the missing ones, Blitzer asked her to tally off the numbers for the county. "Oh, God," Pfeffer replied, "I added them up a couple of times… oh man." She did eventually get the votes together, which King put into his numbers. Adding them up, he gave the victory to Romney, but noted that "the numbers from the state do not add up with the numbers that we just received." "What do you mean, the numbers don't match?!" one of the ladies boomed, to which the commentators laughed, and King tried to explain.
Blitzer then concluded asking whether CNN had woken them up, or whether the state did it. "No, I woke her up!" Talett responded, noting that Pfeffer didn't answer her phone."Do you ladies have some fresh coffee?" King joked.
The interview via CNN below:

And they called back! Here is part 2 of CNN's interview with Edith and Carolyn:

Have a tip we should know? tips@mediaite.com