CNN Guest Battles 'Pseudo-Expert' from Heritage Panel over Anti-Islam 'Fear-mongering'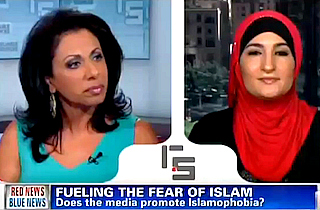 On Reliable Sources Sunday morning, host Brian Stelter considered the original point made at a Heritage Foundation seminar, somewhat obscured by a mini-controversy that followed Washington Post columnist Dana Milbank's characterization of it, that anti-terrorism rhetoric unfairly tars all Muslims as extremists.
Stelter brought on Brigitte Gabriel, founder of ACT! for America, who claimed anywhere from 180-300 million Muslims worldwide were violent extremists, and Linda Sarsour, Director of Arab American Association of New York, who accused her cloaking Islamophobia in overheated counterterrorism rhetoric.
"The media also gives a platform to pseudo-experts," Sarsour said. "Just because you grew up in the Middle East and just because you supposedly lived under a war doesn't make you a terrorism analyst. There are people who have extensive training in this area and at the same time can talk about very fringe Islamic terrorism without talking about Islam as a religion being a threat."
Gabriel responded that dozens of groups were using the Koran as justification for plotting new 9/11s, and that it was of paramount importance to stop future terrorist attacks.
"Isn't that fear-mongering?" Stelter asked. "To use the words thousands and millions?"
"You want to talk about terrorism, let's talk about terrorism, and let's be prepared," Sarsour replied. "But let's not prepare the American people that all terrorism that comes form around the world comes form the Muslim community…Terrorism does not equal Islam, it does not equal Muslims."
"There were Muslim responders," Sarsour reminded Gabriel. "75 Muslims died in 9/11, including a first responder…To alienate the Muslim community, create them as the other, and to start making over-exaggerations about these potential attacks that haven't happened is not the way that you combat terrorism in any country."
Watch the clip below, via CNN:
[Image via screengrab]
——
>> Follow Evan McMurry (@evanmcmurry) on Twitter
Have a tip we should know? tips@mediaite.com