CNN Guest Destroys Katrina Pierson: Maybe She's 'One of the Blacks' Trump Pays to Clean Up His Mess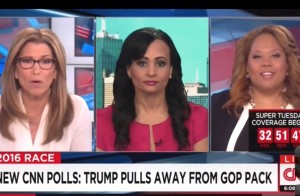 It's barely 9:30 AM the day before the Super Tuesday contests, but the fireworks surrounding the Trump campaign are already fully detonated.
On CNN Monday morning, Katrina Pierson — the controversial spokesperson for Donald Trump who has a questionable Twitter history, casually wears bullet-laced chokers (not "chockers"), and doesn't quite get how radical Islamism works — joined Carol Costello and found herself in an all-out brawl with Republican strategist Tara Setmayer.
The issue at hand stemmed from the latest dose of controversy to shock (or more realistically, do nothing to) the Trump campaign. This weekend, the real estate mogul and current GOP frontrunner refused to initially disavow the endorsement from former KKK Grand Wizard David Duke. Trump told CNN's Jake Tapper Sunday morning that he "doesn't know enough" about the group in question (that group, for the record, is the Ku Klux Klan). He eventually distanced himself from the endorsement however, simply citing a malfunctioning earpiece as the reason for the confusion.
"[Donald Trump] obviously thinks the American people are stupid," offered Setmayer, who blasted Trump's campaign tactics of shiftiness and being untrue to the American people.
Pierson shot back at Setmayer, attempting to clarify the David Duke 'confusion': "I just explained the whole thing to you!"
Things seemed to take a personal turn when Setmayer discussed Trump's history of having support from "the blacks", and she continued, "Maybe Katrina Pierson is one of 'the blacks' he likes since he pays her to clean up his mess everyday on television."
SHOTS FIRED! Setmayer pushed Pierson even harder, eventually forcing the Trump spokesperson to meekly settle with, "He's winning, and that's all that matters!"
Watch the above heated exchange from CNN above.
[image via screengrab]
—
J.D. Durkin is the Senior Editor of Mediaite. You can follow him on Twitter @jiveDurkey.
This is an opinion piece. The views expressed in this article are those of just the author.