CNN Guest Lashes Out At Juror B29's 'Empty' Apologies For Zimmerman Verdict, Scolded By Fellow Guests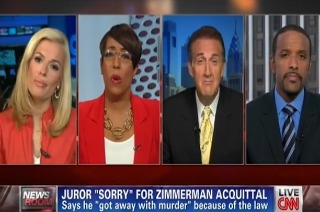 Radio host Mo Ivory lashed out at juror B29 on Friday after she came out publically on ABC's Good Morning America and lamented the not guilty verdict she helped find in the trail of George Zimmerman. Though B29 confessed that she and her fellow jurors had little legal recourse but to find him guilty, Ivory said that she believed in her heart that Zimmerman was guilty of a crime. Ivory called B29's heartache "empty" and asserted that she believed B29 caved to pressure from her fellow jurors. She was unrepentant after being scolded by her fellow CNN guests for making "inappropriate" claims.

"She clearly feels like she owes an apology to [Trayvon] Martin's family," CNN anchor Pam Brown said of juror B29. "Does she?"
"Absolutely," Ivory replied. "I'm still emotional about the verdict and I don't apologize for that emotional connection at all."
"The legal side of me understands her conflict," she continued. In spite of the fact that B29 told ABC's Robin Roberts that her voice was "the loudest" in the deliberation room and that she "was heard," Ivory asserted that B29 was "bullied" into reaching a not guilty verdict by juror B-37. B-37 gave a post-verdict interview to CNN's Anderson Cooper which some felt showed that the juror was overly sympathetic to Zimmerman.
RELATED: Full Interview: ABC News Sits Down With Juror B29: 'I'm Hurting As Much As Trayvon's Mother'
"I do feel like she caved," Ivory said noting that if she had stuck with her initial belief that Zimmerman was guilty, he could have been retried. "Part of me is very upset with her, and I think that the apologies after were empty apologies."
"I'm angry with her for not being strong enough to go against the bullies, and especially B-37, where she could have been the deciding vote to re-try him and maybe the verdict would be different," Ivory insisted.
Attorney Jeffrey Gold, who sat in the courtroom for a large portion of the proceedings, said that B29 "didn't pay much attention" to the trial compared to the rest of the jury. "I don't believe that she was bullied by the other jurors at all," Gold declared. "This is a matter of buyer's remorse."
"I don't think that she expressed herself exactly as she meant when she said he got away with 'murder,' Gold continued. "I think she meant he got away with a 'killing,' and that killing isn't a good thing and even though it wasn't illegal, God will take care of it."
Ivory had a problem with Gold's assertion. "Yes she did mean that, and he did," she shot back. "So, let's not say that she wasn't saying what she meant. He did get away with murder."
"No, he got away with a killing," Gold countered. "It wasn't murder, and to say it was murder when the jury acquitted him is inappropriate."
"He got away with murder," Ivory replied, dismissing Gold's admonishment.
Watch the segment below via CNN:
> >Follow Noah Rothman (@NoahCRothman) on Twitter
Have a tip we should know? tips@mediaite.com