CNN Guest On Breitbart Tape: 'The Most Scandalous Thing Is Obama Was Still Rocking Afro In 1990'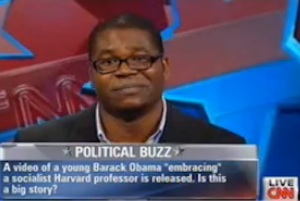 Appearing on CNN's Daily Buzz segment Friday, Jason Johnson, professor at Hiram College, laughed off the uproar over the Breitbart video featuring President Barack Obama hugging a controversial professor at a Harvard diversity rally.
"The most scandalous thing about this video is Obama was still rocking an afro in 1990. I mean, that was the weirdest thing I saw in the video. There was nothing strange about this whatsoever. He's doing something political and he's chatting with a bunch of people. To be honest, the sad part of this — and not to speak ill of the dead — but this is the legacy of Andrew Breitbart — the idea of promoting these 'scandalous' videos that will change the landscape of American politics and it's not that big of a deal and I wasn't shocked except for the haircut."
RELATED: Hannity Debuts Breitbart Obama College Video Reveals "Controversial" Hug With Embattled Professor
Democratic strategist Maria Cardona was equally unperturbed by the video's contents and feigned shock over its allegedly scandalous implications.
"When I saw this clip, Carol, I had to avert my eyes!" Cardona snarked. "I thought it was the most scandalous thing I'd ever seen. We should call for impeachment right now. I can't take this. I can't do this anymore, Carol. Oh, my god. This is so ridiculous. A Harvard law student introducing a Harvard law professor? I don't think the American people will be able to handle that, Carol. Seriously!"
Watch below, via CNN:
Have a tip we should know? tips@mediaite.com