CNN Guest Rips Don Lemon's Race Remarks: 'Sound Like Conservative Preacher, O'Reilly Should Welcome You'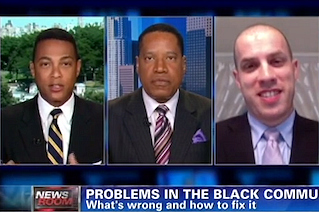 Don Lemon's unusual point of agreement with Bill O'Reilly on race Saturday afternoon immediately led to some strange bedfellows, with Lemon finding himself in a corner with conservative radio host Larry Elder, and getting excoriated by Michael Skolnik, editor-in-chief of Global Grind.
"I think your comments sounded like a conservative preacher on a Sunday, and certainly Bill O'Reilly should welcome you on his show," Skolnik said. "I'm disappointed in you."
"You're talking about sagging pants," Skolnik continued. "I've heard this rap for years. Let's stop talking about sagging pants, and let's talk about why we incarcerate 2.2 million people in this country, and why young kids look up to guys who come out of jail. We waged a war against black and brown people forty years ago, the War on Drugs, and it failed miserably, and now we're reaping the repercussions."
"Not every black kid is in jail," Lemon responded. "And there are rules, and people should know where that style comes from, whether it's a black kid, a white kid, or whether it's Justin Bieber. That is glorifying prison culture. Who wants to see someone's butt crack?"
"Black men went to jail as diseased drug addicts, and they came out as criminals, because they taught them criminal behavior in jail," Skolnik said. "It's not glorifying it, it's a reflection of our society. Our society incarcerates 2.2 million people, more than anyone else in the world. It's a reflection, it's a mirror. Don't break the mirror. Look at yourself."
"Larry Elder, help me out," Lemon said. "Isn't that what I'm trying to do here?"
Elder agreed with Lemon, and then went much further, blaming Lyndon Johnson's War on Poverty for the disintegration of the African American family, and praising Ronald Reagan for restoring employment opportunities to black men.
"We've been giving people incentives to marry the government, and allow men to abandon their financial responsibilities," Elder said. "My dad was a janitor, he worked two full-time jobs as a janitor. He never read Adam Smith, but he also said 'I never got a job from a poor person.'"
This was a bit much for Lemon. "Larry, you're gonna have a hard time convincing people that Ronald Reagan is the scion to help African American people. That's a tough sell."
Watch the exchange below, via CNN:
—
>> Follow Evan McMurry (@evanmcmurry) on Twitter
Have a tip we should know? tips@mediaite.com