CNN Guest Slams Call For Gay Rights In Inaugural Address: 'Homosexuals Already Have All The Same Civil Rights'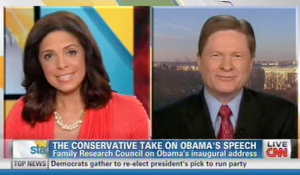 On Tuesday morning, the conservative Family Research Council's Peter Sprigg joined Soledad O'Brien on Starting Point to discuss President Obama inaugural address and the agenda outlined within it. Sprigg said he liked little about the speech — particularly the stance on gay rights and divisive tone.
Asked what he liked about the address, Sprigg said he appreciated that Obama started by quoting the Declaration of Independence, "attempting to root it in the principles of our nation's founding" — but "I'm not sure that he went on to correctly interpret what those principles mean for today." Obama, he said, was saying the era of big government is back, a point O'Brien said she didn't take away from the speech.
O'Brien then moved on to more specifics, citing Obama's vocal support for gay rights. Sprigg didn't agree with the president linking the gay rights movement with civil rights for African Americans and women's rights. "The irony is," he contended, "homosexuals already have all the same civil rights as anyone else. But that fact that all people are created equal as individuals does not mean all sexual behavior is equal or that all personal relationships have an equal value to society at large."
Many would say that's wrong, O'Brien remarked before shifting the conversation more toward tone and political positioning. "I do think he was kind of laying down the gauntlet," Sprigg argued. "Not really saying, 'Let's seek common ground, let's find place where we can agree and compromise' — but saying, 'This is the agenda that I have, and I'm going to pursue it.'"
Obama did win the election, Sprigg added, so he does have the right to do just that. But it's not going to help the divisiveness. On that point, the panel mostly agreed: The speech didn't include an olive branch.
Take a look, via CNN:

Have a tip we should know? tips@mediaite.com