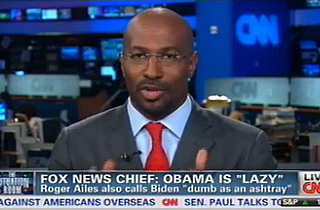 According to a new biography of Roger Ailes, the Fox News chief reportedly believes Newt Gingrich is a "prick," VP Joe Biden is "dumb as an ashtray," and President Obama is "lazy." CNN panelist Van Jones took issue with the latter revelation, calling the comment "disgusting" and possibly a "racial charge."
The biography, by Zev Chafets, quotes Ailes as saying that Obama "never worked a day in his life" and "never earned a penny that wasn't public money." He chided the president for playing golf and basketball so often while having to deal with important issues.
"He's lazy, but the media won't report that," Ailes reportedly told the biographer.
On CNN, progressive commentator Jones reacted as such: "This is the kind of stuff that is really disgusting at the end of the day. First of all, Barack Obama's hair is white. He looks like the black Santa Claus who shaved his beard off. You don't go looking from Tiger Woods to Morgan Freeman in three years if you're not working hard. There's a racial charge that some people find offensive."
Jones implied that he believes Ailes employs a racial double-standard because "Nobody calls [House Speaker John] Boehner lazy" despite him playing more golf than the president.
"This is the kind of stuff that really brings back into the mud," Jones lamented.
"We're taking excerpts out of a three-page article," cautioned Republican consultant Ana Navarro, before praising the Fox exec: "I think you're dealing with somebody who is unfiltered, refreshingly politically incorrect to be in politics. I think it's going to be an interesting book."
Host Wolf Blitzer noted that Ailes "does say I'm a good journalist," and thanked the Fox chief, lauding the "amazing job" he has done with the network.
Watch below, via CNN:
— —
>> Follow Andrew Kirell (@AndrewKirell) on Twitter
Have a tip we should know? [email protected]