CNN Guest Spars Over Boy Scouts Gay Ban: Parents Have Right To 'Protect' Kids From 'Potential Risk' Of Sexual Abuse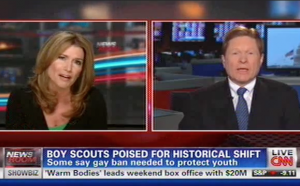 On Monday morning, the Family Research Council's Peter Sprigg joined Carol Costello on CNN to discuss the Boy Scouts possibly ending their ban on gays. Sprigg argued against lifting the ban, leading Costello to challenge his views.
Sprigg encouraged the Boy Scouts to stand by their "timeless" principles, adding that it would be a "grave mistake" for them to abandon them. Costello noted that football players are coming out and supporting gay rights.
"Kids are hearing these football players, their heroes, talking about it," she said. "So, you don't want them to hear about it in some place like the Boy Scouts?"
"People who want to promote the acceptance of homosexuality have the complete freedom to form their own youth development organization, and that's what they should do rather than trying to transform the nature of a longstanding organization," Sprigg argued. "We believe that Scouts have been well-served by the policy they have."
When he went on to cite a poll that showed majority of Americans feel it's "morally wrong to engage in sexual relations with a person of the same sex," Costello interjected, pointing to polling that shows most Americans support gay marriage.
"Times are changing," she told Sprigg. "Do you really think a gay Scout leader is going to become a gay Scout leader to push a gay agenda? Seriously?"
The "mere fact that someone openly identifies themselves as homosexual means that they are modeling for boys the acceptability of homosexual conduct," Sprigg countered. And parents have the right to "protect" their children from "potential risk" of sexual abuse.
Costello wasn't buying his line of reasoning, saying homosexuals aren't any more likely to molest children — and that it isn't fair of him to be "condemning every single homosexual in the country as being a possible pedophile."
Sprigg brought up the Girls Scouts as an example, arguing that most parents wouldn't "not feel comfortable sending their daughters on overnight camping trips with men who are sexually attracted to females."
Costello countered that there seems to be no major issue with Girl Scouts accepting gay leaders, but Sprigg argued that there's much controversy. That organization, he said, has "given in to this liberal, politically correct agenda."
Take a look, via CNN:

Have a tip we should know? tips@mediaite.com